Lab Members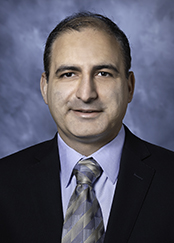 Wafa Tawackoli, PhD
Assistant Professor
Wafa Tawackoli, PhD, is technical director of the research imaging core and micro/molecular imaging in biomedical sciences. He is also an assistant professor. Tawackoli's research focus includes imaging stem cell-based skeletal tissue engineering, and regenerative medicine. Learn more about his research here.
Gadi Pelled, PhD, DMD
Assistant Professor
Gadi Pelled, PhD, DMD, attended Hebrew University of Jerusalem for his undergraduate, medical and doctorate degrees. He is investigating the use of adult mesenchymal stem cells (MSCs) for skeletal tissue regeneration. His studies have shown that MSCs were able to regenerate skeletal tissues such as bone and tendon. Learn more about Pelled's research here.
Dmitriy Sheyn, PhD
Project Scientist
Dmitriy Sheyn, PhD, is a postdoctoral scientist at Cedars-Sinai, Department of Surgery and Board of Governors Regenerative Medicine Institute. He received his doctorate in skeletal tissue engineering from Hebrew University of Jerusalem, Israel. Sheyn joined the Skeletal Program in 2010. He has been studying adult and induced pluripotent stem cell-mediated therapeutics for bone and spine regeneration. Shiran Ben-David
Research Associate I
Shiran Ben-David received her bachelor's degree in biological sciences at the University of California, Irvine. She joined the Gazit Lab in 2010 and is currently a research associate at Cedars Sinai. Sandra de Mel
Research Associate
Sandra de Mel received her bachelor's degree in biology and anthropology from University of California, Los Angeles in 2013. She is currently assisting the Gazit Lab in discovering skeletal stem cell therapies through in vitro and in vivo experimentation.
Contact the Gazit Lab
8700 Beverly Blvd.
Advanced Health and Sciences Pavilion, Room 8108
Los Angeles, CA 90048