Physical Medicine & Rehabilitation Department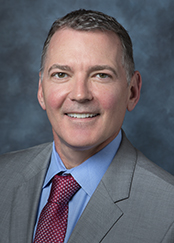 Message from the Department Chair
We can never underestimate passion, which can be married with innovation to create new products to bring changes to healthcare.

---
Richard V. Riggs, MD
Chair and Professor, Department of Physical Medicine and Rehabilitation
Vice President and Chief Medical Informatics Officer, Enterprise Information Services

---
To learn more about inpatient rehabilitation research at California Rehabilitation Institute, visit our website or call 310-423-6660.
The Physical Medicine and Rehabilitation Program includes acute therapy services at Cedars-Sinai (physical, occupational and speech-language therapies and neuropsychology services), as well as comprehensive inpatient and outpatient rehabilitation services for a wide range of conditions.

Cedars-Sinai faculty members are at the forefront of research and care in every field. Meet our distinguished team of top clinicians and investigators.

Have Questions or Need Help?
Contact us if you have questions or wish to learn more about Cedars-Sinai Physical Medicine and Rehabilitation Research and Education programs.