The primary focus of the Seki Laboratory is to understand the role of innate immune and inflammatory signals in chronic liver diseases such as liver fibrosis, alcoholic and nonalcoholic steatohepatitis and hepatocellular carcinoma. In particular, our laboratory is interested in studying the interplay between hepatocytes and non-parenchymal cells (Kupffer cells and hepatic stellate cells) in chronic liver disease. Our research goal is to discover new mechanisms of and novel therapeutic targets for chronic liver disease.
The Seki Laboratory is affiliated with the Digestive Diseases Center and the Department of Medicine.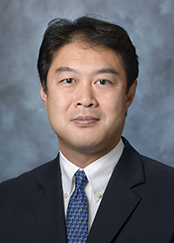 My expertise lies in the field of immunology, as well as in clinical and research gastroenterology and hepatology. The research group in my laboratory has expertise in using genetically modified animals and isolating primary cultured liver cells including hepatocytes, Kupffer cells and hepatic stellate cells."
---
Ekihiro Seki, MD, PhD
Liver fibrosis (hepatic fibrosis) is a wound-healing response that is a consequence of chronic liver diseases such as hepatitis B and C infections, autoimmune hepatitis, nonalcoholic steatohepatitis (NASH) and alcoholic liver disease (ALD). Liver cirrhosis, the end stage of hepatic fibrosis, is associated with hepatocellular dysfunction, increased intrahepatic resistance to blood flow and hepatocyte dysplasia, which may lead to hepatic failure, portal hypertension and hepatocellular carcinoma. 
Department of Medicine
Digestive Diseases Center
Liver Disease and Transplant Center
Meet Our Team
---
Learn more about the scientists, faculty members, investigators and other healthcare professionals of the Seki Laboratory, whose dedicated efforts lead to groundbreaking discoveries.
Song IJ, Yang YM, Inokuchi-Shimizu S, Roh YS, Yang L, Seki E. 
Int J Cancer. 2018 Jan 1;142(1):81-91. 
Yang L, Miura K, Zhang B, Matsushita H, Yang YM, Liang S, Song J, Roh YS, Seki E.
Cell Mol Gastroenterol Hepatol. 2017 Jan 17;3(3):469-483. 
Roh YS, Zhang B, Loomba R, Seki E. 
Am J Physiol Gastrointest Liver Physiol. 2015 Jul 1;309(1):G30-41. 
Contact the Seki Lab
8700 Beverly Blvd.
Davis Building, Rooms 2099, 2029
Los Angeles, CA 90048