Pathology & Laboratory Medicine Department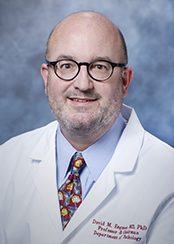 Message from the Department Chair
The talent, energy and dedication of our pathologists, scientists and laboratory staff are inspirational. Our department has a national reputation of excellence in diagnostic medicine, education and research. We strive to enhance patient care while simultaneously advancing our understanding of the molecular basis of human disease and training the next generation of pathologists, scientists and laboratorians.

---
David Engman, MD, PhD
Medallion Chair in Molecular Medicine
Chair, Pathology and Laboratory Medicine
Chair, Academic Pathology
Professor, Pathology and Laboratory Medicine
Professor, Biomedical Sciences
Professor, Medicine

Patient Care
Our expert pathologists and clinical scientists participate in the care of virtually every Cedars-Sinai Medical Center patient, and also provides expert consultation services to the outside community. We use the most sophisticated methods for making accurate diagnoses in all areas of anatomic and clinical pathology.

Our Faculty
Cedars-Sinai faculty members are at the forefront of research and care in every field. Meet our distinguished team of top clinicians and investigators.

Have Questions or Need Help?
Contact us if you have questions or wish to learn more about Cedars-Sinai's Research and Education programs.