The Sheyn Laboratory focuses on the development of stem cell therapies for multiple musculoskeletal disorders caused by acute injuries and aging. Using gene editing, biomechanical forces and specific transcription factors, the Sheyn Lab is seeking to direct stem cells toward skeletal tissue-specific cell types to support healing and to reverse degenerative and inflammatory processes. Our close interaction with Cedars-Sinai orthopaedic surgeons and Biomedical Imaging Research Institute allows the Sheyn Laboratory to develop relevant animal models and to test the differentiated stem cell therapies in vivo.
The Sheyn Laboratory is affiliated with the Cedars-Sinai Board of Governors Regenerative Medicine Institute and the Orthopaedics and Surgery Departments.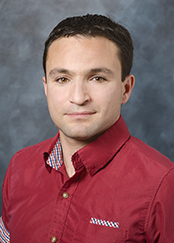 I have devoted more than 15 years to the research of gene and stem cell therapies. This field holds great therapeutic potential. In my postdoctoral work, I developed an efficient and easily reproducible method to modify stem cells and to regenerate bone defects. The cell therapy approach was tested and found biomechanically valid and new bone tissue was comparable to the native bone."
---
Dmitriy Sheyn, PhD
"My back hurts, Doc," is one of the most common complaints heard by family doctors. Effectively treating low back pain, caused mostly by degeneration of the intervertebral disc, poses a huge medical challenge. Unfortunately, no cure for disc degeneration has been found. The Sheyn Laboratory is working to develop new therapies that will benefit patients by improving their quality of life, as well as reducing medical costs and the number of missed workdays.
---
Learn more about the scientists, faculty members, investigators and other healthcare professionals of the Sheyn Laboratory, whose dedicated efforts lead to groundbreaking discoveries.
Bez M, Kremen TJ, Tawackoli W, Avalos P, Sheyn D, Shapiro G. Giaconi JC, Ben David S, Snedeker JG, Gazit Z, et al. 
Mol Ther.2018 Jul 5;26(7): 1746-1755. 
Glaeser JD, Salehi K, Kanim LEA, Sheyn D, NaPier Z, Behrens PH, Garcia L, Cuellar JM, Bae HW.
Tissue Eng Part A. 2018 Nov;24(21-22):1641-1651. 
Bez M, Zhou Z, Sheyn D, Tawackoli W, Giaconi JC, Shapiro G, Ben David S, Gazit Z, Pelled G, Li D, Gazit D.
Sci Rep. 2018 Nov 26;8(1):17363. 
127 S. San Vicente Blvd.
Advanced Health Sciences Pavilion, A8308
Los Angeles, CA 90048