Bringing World-Class Care Closer to You
Over the past century, Cedars-Sinai has evolved to become the largest academic medical center in the western United States—one that's internationally renowned for providing the best patient care modern medicine has to offer. As a global leader in delivering high-value healthcare and excellent clinical quality, we work closely through local collaborations to bring Cedars-Sinai's world-class care closer to our patients.
---
Cedars-Sinai International is a reflection of our organization's most fundamental values and mission, to be a blessing for those in need. Global growth is a natural development for Cedars-Sinai, which was founded to serve the needs of the community. That community is now truly global, and so are we. Through our Global Services platform, we strive to partner with governments and private healthcare organizations to provide consulting services, develop global affiliations, and academic and strategic collaborations all with the purpose of bringing world-class care closer to our patients and their families.
---
Vice President & Medical Director of International
Services We Offer
We provide a full spectrum of services to help our partners achieve their goals. Through strategic collaborations, we bring outstanding care closer to patients, wherever they may be.
Consulting and Strategic Collaborations
---
Cedars-Sinai is home to a team of world-class experts who set the bar for medical care. Our first-hand experience in clinical excellence and patient-centered care will help our collaborators design, develop and/or improve their clinical programs and ultimately create more value for their patients and communities.
Academic Collaborations
---
Cedars-Sinai's education and training programs are designed for physicians, nurses and other healthcare professionals who are interested in cutting-edge clinical care and technology.
Programs are customized and delivered both internationally and at our locations in Los Angeles.
Global Affiliations
---
Cedars-Sinai affiliates gain long-term access to clinical and nonclinical knowledge and support that will have a material impact in the regions they serve.
Telehealth Program
---
The Cedars-Sinai International Telehealth Program is a physician-to-physician platform that leverages innovative technologies to provide immediate access to world-renowned physicians and scientists at Cedars-Sinai. Collaborating entities can connect with our specialists one-on-one or through virtual case conferences.
Patient Referral Agreements
---
Cedars-Sinai cares for thousands of international patients from over 100 countries each year. For entities wishing to collaborate with Cedars-Sinai to access specialized care and innovative programs, we can structure meaningful collaborations for patient referrals to Cedars-Sinai either in-person or via video visits.
Cedars-Sinai

Global Locations
Explore our latest global collaborations and regional office locations.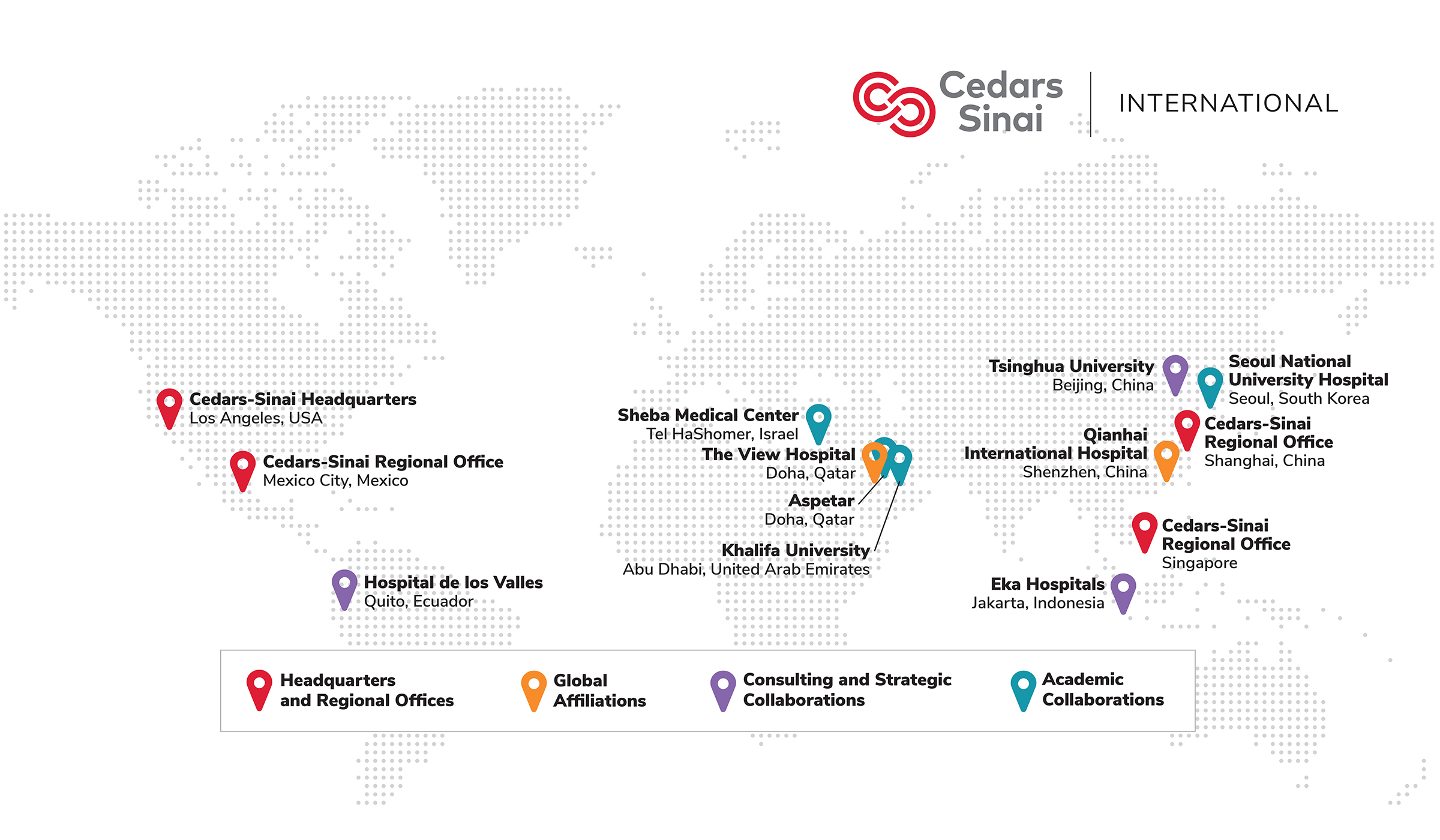 ---