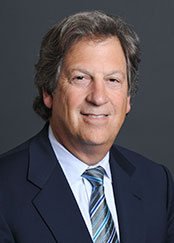 Message from the Department Chair
Cedars-Sinai has long been at the forefront of surgical innovation in developing minimally invasive procedures. Our extraordinary surgeons-scientists collaborate on translational research in many surgical fields. Areas of interest include cancer biology, health services research, stem cell biology and quantitating the impact of human factors. With more than $21 million of external funding, we continue to push the field forward.

---
Bruce Gewertz, MD
H & S Nichols Distinguished Chair in Surgery
Chair, Department of Surgery
Vice President, Interventional Services
Vice Dean, Academic Affairs
Professor, Surgery
Surgeon-In-Chief

---
RESEARCH AREAS, CENTERS & PROGRAMS
NUMBER OF RESIDENTS & FELLOWS
NUMBER OF COMBINED SURGICAL CLINICAL TRIALS
Patient Care
Highly trained surgeons perform more than 30,000 surgeries at Cedars-Sinai each year. More than one-third of all surgeries performed are minimally invasive procedures, in which physicians use the most advanced technology available for laparoscopic and robotic surgery.

Our Faculty
Cedars-Sinai faculty members are at the forefront of research and care in every field. Meet our distinguished team of top clinicians and investigators.

Have Questions or Need Help?
Contact us if you have questions or wish to learn more about Cedars-Sinai's Research and Education programs.