Cedars-Sinai

Medical Center Patient & Visitor Information
Use these resources to make your experience at Cedars-Sinai Medical Center as simple and easy as possible.

On-Site Walking Directions
Use our interactive medical center tool to find turn-by-turn directions to your doctor's office or to other locations, such as bathrooms, elevators, and cafes within the medical center.
---
Get turn-by-turn directions on your phone with our mobile app.
Events
View our comprehensive calendar to learn more about upcoming events, and search by areas of interest, types of events, and more.
Billing & Insurance
Cedars-Sinai accepts more than 100 types of insurance plans, including Medicare and Medicaid. Let us guide you through your options and opportunities.

Spiritual Care
Healing is about more than just the physical needs of the body. Our interfaith chaplains will work with you and your family to meet your spiritual needs during your stay. Meditation and Reiki healing sessions are also offered at the medical center, to support your overall mental and emotional wellbeing.
Helping Hand Gift Shop
Volunteers run our retail locations in the medical center and the Pavilion lobby. Purchases made at the medical center or online can be delivered free of charge to any patient's room or on-campus employee's office. All proceeds support the Department of Obstetrics and Gynecology.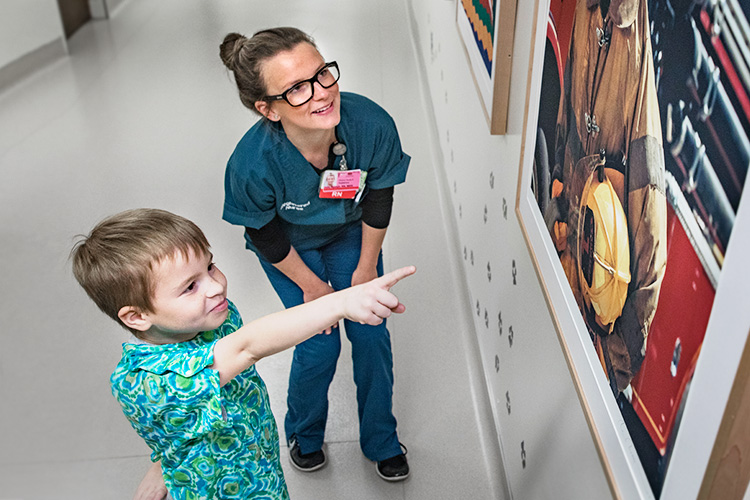 Experience Art & Healing
As a patient or visitor, you will encounter the unique therapeutic benefits of some of the world's greatest art, thanks to Cedars-Sinai collection of more than 4,000 donated masterpieces.
International Patients
Dedicated support for patients arriving from other countries. No matter where you live or where you're from, language or distance won't limit Cedars-Sinai's commitment and dedication to providing you with world-renowned care.
Medical Records
For your own peace of mind, or to share with other providers.
Harassment, Discrimination and Inappropriate Conduct
Share any concerns or feedback.
Main Campus WiFi Access
At the Cedars-Sinai Medical Center campus, getting online is easy and free.
Choose the "csguest" network in your device's wireless settings.
A "guest" login window will appear.
Select "log on as guest" — no password required.