Current research in the Slomka Laboratory focuses on developing innovative methods for fully automated analysis of nuclear cardiology data using novel algorithms and machine learning techniques, and on the development of integrated motion-corrected analysis of positron emission tomography (PET)/computed tomography (CT) angiography imaging.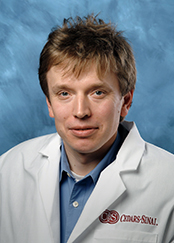 Piotr Slomka, PhD, FACC, is a research scientist in the Artificial Intelligence in Medicine Program within the Department of Medicine at Cedars-Sinai, and professor of medicine in-residence of the David Geffen School of Medicine, UCLA. He received his doctorate in medical biophysics in 1995 from the University of Western Ontario, Canada.
---
Piotr Slomka, PhD
Research in the Slomka Laboratory is supported by the National Heart, Lung and Blood Institute at the National Institutes of Health (NIH).

---
Learn more about the scientists, faculty members, investigators and other healthcare professionals of the Slomka Laboratory, whose dedicated efforts lead to groundbreaking discoveries.
---
The Slomka Laboratory has open positions for postdoctoral fellows, research software engineers and project scientists. To apply for a position with the Slomka Lab, please send a description of your interests together with your curriculum vitae to piotr.slomka@cshs.org. 
8700 Beverly Blvd.
North Tower, Suite AO47
Los Angeles, CA 90048