Cedars-Sinai is a modern healthcare environment that excels at providing exceptional service to a wide range of constituencies and has consistently earned both a regional and national reputation for our superb clinical care and superior outcomes. This is reflected in the quality of our academic faculty and private attending physicians who have served our institution for many years in both the clinical arena and in cutting-edge translational research. Our academic teaching program is nationally renowned and highly respected, and each year our campus is home to some of the best young people in the nation who receive their medical training which allows them to learn and go forward as outstanding physicians.
The Department of Medicine at Cedars-Sinai is consistently recognized as a top leader in all medicine disciplines and attracts the "best of the best," allowing for our strong investment in our clinical, research and academic programs. Our ability to foster strong patient-associated values enhances our commitment to the institutional goals and values, and our overall achievements enable us to be a benchmark to the finest hospital in the country. Our specialties are consistently ranked among the top programs in the nation by entities such U.S. News and World Reports and the University Hospital Consortium (UHC). We are recognized as one of the top cardiac hospitals in the nation, and many procedures developed here over the years are routinely utilized throughout the world.
---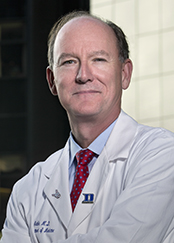 Working together, we can harness the resources to pioneer discovery and accelerate drug development, making a tangible difference in countless patients' lives.
---
Paul W. Noble, MD
Chair, Medicine & Director, Lung Institute

Meet the Expert Team
---
Kao Autoimmunity Institute and Scleroderma Program
The Kao Autoimmunity Institute and Scleroderma Program are dedicated to advancing the research, diagnosis and treatment of autoimmune diseases.

Artificial Intelligence in Medicine
The Artificial Intelligence in Medicine division harnesses technology to solve existing gaps in mechanisms, diagnostics and therapeutics of major human disease conditions.

---
Related Programs and Services
Have Questions or Need Help?
Call the Medicine team for more information. You can also have us call you back at your convenience.

Medicine Department
8700 Beverly Blvd.
Los Angeles, CA 90048