Schoonhoven Mural
Jun 07, 2019 Cedars-Sinai Staff
Terry Schoonhoven Historic Mural
Painting in Harvey Morse Auditorium celebrates the Jewish legacy in medicine
Benefactors Beverly and Joseph Mitchell commissioned the late muralist Terry Schoonhoven to create this enormous 1999 work, which salutes the important contributions of the Jewish people and Jewish law to modern medicine.
The mural begins with the Old Testament and moves forward through 4,000 years of history, with such prominent figures as the 6th century's Asaph the physician, psychiatrist Sigmund Freud, bacteriologist Jonas Salk, researcher Paul Ehrlich and scientist Stanley Cohen.
It ends with a look toward the future, referencing medical imaging, transplantation, gene therapy, molecular biology and other advances.
The mural highlights the importance of the Talmud, which expands upon and explains references in the Bible to health and wellbeing.
"Schoonhoven did a lot of murals around the city of Los Angeles. Many of those have been lost. This is one of the last surviving murals he made."
—John T. Lange, Cedars-Sinai curator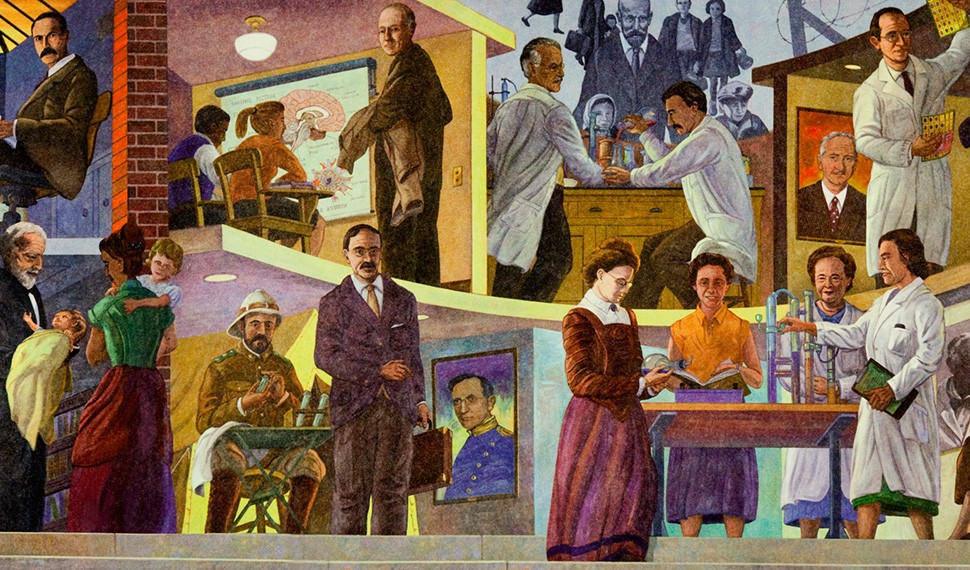 ---
The Cedars-Sinai art collection is comprised of more than 4,000 notable works by some 1,200 artists.
---
Art Spotlight
View some of the many art projects featured at Cedars-Sinai.
Make an Appointment
---
Find a Doctor
Call Us 7 Days a Week, 6 am - 9 pm PT