Specialized Care for Neuromuscular Disorders
Apr 11, 2022 Cedars-Sinai Staff
---
"We are lucky to have a world-class program for neuromuscular disorders."  
---
These CoEs are multidisciplinary clinics—one-stop shops where patients can see their neurology subspecialist along with other providers, including a pulmonologist, orthopaedic surgeon, genetic counselor, physical therapists, speech therapists, orthotists, social workers and psychologists.  
Besides these multidisciplinary centers, Cedars-Sinai is also a CoE for inflammatory neuropathies by the GBS/CIDP Foundation International and for myasthenia gravis (MG) by both the MG Foundation of America and the MG Association of California. 
"As subspecialists, our expertise extends beyond that of a general neurologist," says Richard Lewis, MD, director of the Electromyography Laboratory and interim director of the Neuromuscular Program. "We're here for both patients and physicians when there is concern or uncertainty around a diagnosis or to help find the best available treatment path."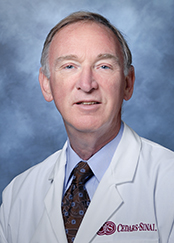 Neurology
Accepting New Patients
Unique Expertise at
Cedars-Sinai
While Cedars-Sinai is equipped with the most advanced technology and diagnostic abilities, physicians like Lewis and Burford pride themselves on going above and beyond to bring the latest thinking and practices to their peers and patients. 
Lewis, a longstanding expert in inflammatory neuropathies, was first author on research in 1982 identifying one of the first variants of chronic inflammatory demyelinating polyneuropathy (CIDP)—now known as Lewis-Sumner Syndrome. He has carried that pioneering legacy forward with his work on electromyography and nerve conduction studies and his service as a leader on numerous foundation boards over the last two decades. 
Burford not only leads the MDA clinic, but also applies his unique training to read nerve and muscle biopsies to answer challenging diagnostic questions, working closely with specialists from rheumatology and oncology as well as other neurology colleagues to manage complex cases. He completed an additional year of neuromuscular fellowship and became board certified in neuromuscular pathology to acquire this specific skill. 
"I'm able to provide clinical insights alongside biopsy results," said Burford. "The additional information can be valuable from a diagnostic perspective and can help physicians determine optimal treatments or make decisions along the way. I'm proud to provide colleagues and patients this perspective and peace of mind that would not otherwise be available through more traditional pathways." 
---
---
Groundbreaking Research
While there is currently no cure for many neuromuscular disorders, researchers at Cedars-Sinai are dedicated to finding new ways to slow, reverse and ultimately prevent the progression of disease. 
CMT Treatment
Cedars-Sinai is one of 20 international centers in a National Institutes of Health-sponsored Rare Disease Consortium in Inherited Neuropathies that is investigating new approaches to understanding and treating CMT. This consortium has registered more than 10,000 patients in their studies and identified more than 20 new genetic causes of neuropathy. 
A groundbreaking trial underway explores a promising medication for CMT 1A, a disorder that does not currently have any treatment options. The oral medication could potentially improve symptoms and functions in patients who have the disease.  
"CMT 1A is one of the more common hereditary forms of neuromuscular disease out there, but it is sorely lacking in treatment," said Burford. "To us, having this trial available is a big deal." 
The trial is still in the early stages of enrollment and patient screening and will follow patients for a year and a half.  
---
---
Innovation in ALS Treatment
The team strives to offer multiple ALS trials at any given time to give patients an opportunity to help find new ways to treat this terminal illness.  
"We have three or four trials ongoing right now, with the most unique being the California Institute of Regenerative Medicine Clinical Trial," said Lewis. "It involves transplanting stem cells in the brains of patients with ALS with the ultimate goal of slowing the disease's progression."  
This trial builds on years of research conducted at Cedars-Sinai, including a study that demonstrated a similar technique delayed disease progression and extended survival in animal models. 
---
---
Natural History Trials
A greater understanding of neuromuscular diseases in general—and what might cause them—is needed to develop new, effective treatments. While natural history trials do not provide short-term relief directly to patients today, they are vital to future discovery. 
"We also have a number of natural history trials available that don't involve treatment but help expand our knowledge of diseases like ALS and CMT," said Burford. "Even if patients are not eligible for treatment trials, they can still participate in research like this and contribute significantly to the scientific journey of medicine." 
Patients and physicians can visit the Cedars-Sinai website to learn more about ongoing research and clinical trials.
Make an Appointment
---
Find a Doctor
Call Us 7 Days a Week, 6 am - 9 pm PT