Pediatric Cancer Patient Kameron Sharpe Isn't Giving Up
Sep 16, 2019 Katie Rosenblum
Kameron Sharpe was first diagnosed with cancer when he was 8 years old. Now 15, he's battling his third recurrence of the disease. 
Kameron's parents had taken him to see a doctor because he having difficulty learning and his motor functions were impaired. A CT scan revealed he was suffering from hydrocephalus, or water in and around the brain. 
---
"I think it's pretty awesome that I could help other kids going through this. Maybe they won't have to do chemo and they won't have to feel bad from it."
---
They were referred to Cedars-Sinai, where Dr. Moise Danielpour performed surgery to alleviate the pressure and allow the built-up fluid to drain. 
After surgery, it was discovered that Kameron also had a malignant brain tumor. Soon after, he began his first round of chemotherapy. He underwent chemo for more than a year. 
"He did well on that chemo," says Kameron's dad, Ryan Sharpe. "Everything was positive. We saw the tumors shrink and he went into basic remission."
---
---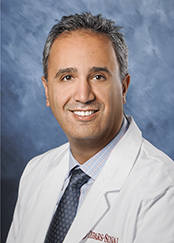 Neurosurgery
Accepting New Patients
Cancer returns
A follow-up MRI the next year showed the cancer had returned. Kameron was put back on chemo and saw similar results. 
When his condition improved again, Kameron returned to his routine, spending time on the family boat and watching action movies.
After another year in remission, the cancer was back again.
"Each time the cancer came back, I was angry and sad because I knew I had to do chemo again," says Kameron. "I used to get sick after chemo and it would make me feel like garbage."
This time, the cancer cells had mutated and Kameron's oncologist, Dr. Fataneh Majlessipour, or "Dr. Fae" as her patients call her, wanted to explore other treatment options.
---
---
Dr. Majlessipour ordered DNA sequencing of the tumors, a test that helps doctors determine what treatment options a tumor might respond to. 

"He's done an extraordinary job coping with his diagnosis and treatment but doing this kind of genetic testing really opened doors for Kameron," says Dr. Majlessipour. 
Armed with knowledge about the specific molecules of his tumors, doctors were able to determine the next steps.
Investigational treatment options
Now instead of chemo, Kameron is enrolled in a clinical trial testing an investigational medication. On the trial, Kameron takes 2 pills nightly.
"We got tired of doing chemo and we carefully considered Dr. Fae's recommendation to try this experimental treatment," says Ryan. "We're excited for the chance for him to possibly be done with cancer forever." 
---
---
One of the reasons Kameron's parents decided to enroll in the trial is the possibility of helping future pediatric patients dealing with similar cancers. 

"I think it's pretty awesome that I could help other kids going through this," Kameron says. "Maybe they won't have to do chemo and they won't have to feel bad from it."
Kameron's cancer is responding well to the therapy and his tumors have started to shrink. He's looking forward to getting his driver's license soon and hopes to someday own his dream car, a blue Dodge Challenger SRT Hellcat. 
---
Make an Appointment
---
Find a Doctor
Call Us 7 Days a Week, 6 am - 9 pm PT