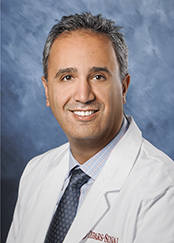 Moise Danielpour, MD
310-423-7900
Fax: 310-423-8563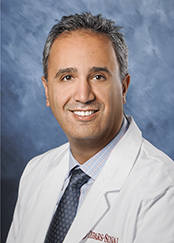 Scheduling
In person visits
Neurosurgery - Pavilion
127 S San Vicente Blvd #A6600
Los Angeles, CA
34.074522
-118.379067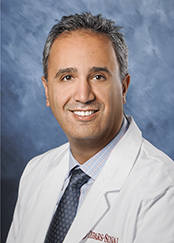 Back to Top
Locations
Neurosurgery - Pavilion
34.074522
-118.379067
Neurosurgery - Pavilion
Monday: 8:00AM - 4:30PM
Tuesday: 8:00AM - 4:30PM
Wednesday: 8:00AM - 4:30PM
Thursday: 8:00AM - 4:30PM
Friday: 8:00AM - 4:30PM
---
Self-parking is available in Cedars-Sinai parking lot P4. The cost is: 1st hour free, $5 each hour thereafter and $15 daily maximum. Valet parking is the same price as self-parking. Gratuities are not accepted. Valet is available at lot P4 Pavilion M-F, 5 a.m.-10 p.m.
Experience
Specialties
Area in which a healthcare provider is highly trained and often board certified.
1
Programs
Cedars-Sinai clinical programs this provider is part of:
8
Research Areas
Moise Danielpour, MD, is one of the few pediatric neurosurgeons in the world with experience with in utero surgical treatment for birth defects, such as myelomeningocele. He is a member of the international prenatal neurology and neurosurgery conference team as well as a member of the Cedars-Sinai International Skeletal Dysplasia Program. He is a world-renowned investigator and neurosurgical expert on Congenital Malformations of the Central Nervous System and acquired neurosurgical diseases such as Skeletal Dysplasia, Hydrocephalus, Chiari Malformations, brain tumors, Craniosynostosis and Vascular Malformations. Danielpour is also an expert in the use of minimally invasive surgical technology in the care of children with central nervous system disease. His expertise includes the use of minimally invasive techniques in the treatment of pediatric hydrocephalus (endoscopic third ventriculostomy, aquaductoplasty and endoscopic fenestration of intracranial cysts), specifically in neonates and children. In the laboratory, Danielpour seeks to discover the mechanisms regulating the pathological differentiation of neural stem cells into brain tumor progenitors. Using a next generation glioma models created by him and his colleague, Dr. Joshua Breunig, they introduce patient-specific mutations to create analogous tumors in animal models. From these cancer cells, they are uncovering the developmental origins of tumorigenesis and have begun researching new, more targeted treatments to halt the progression of these malignancies. Dr. Danielpour also investigates the molecular control of neural stem cell behavior in the brain, seeking to replace specific population of glia lost after intraventricular hemorrhage of prematurity.
Titles
Medical Director

,

Center for Pediatric Neurosciences

Director

,

Pediatric Neurosurgery Program

Vera and Paul Guerin Family Chair

,

Pediatric Neurosurgery

Associate Professor

,

Neurosurgery
Education & Training
University of California, San Francisco Medical Center

Fellowship - Completed 2000

Stanford Univ. Med. Center

Fellowship - Completed 1999

Northwestern Memorial Hospital

Residency - Completed 1999

Albert Einstein College of Medicine

Fellowship - Completed 1993

Albert Einstein College of Medicine

Medical School - Completed 1992
Achievements
1

Board Certifications

8

Awards and Honors

6

Publications
Board Certifications
Neurosurgery

American Board of Neurological Surgery
Awards and Honors
Newsweek: Top Doctors in Cancer
America's Top Surgeons Castle and Connolly
Hollywood Reporter Top Doctors: Neurosurgery
Member, American Society of Pediatric Neurosurgery
Los Angeles Magazine Top Doctors: Pediatric Neurosurgery
American Association of Neurological Surgeons
Member, Western Neurosurgical Society
America's Top Doctors Castle and Connolly
Publications
A full list of this provider's research publications can be found on their research profile or PubMed.
Akhtar, A. A.,Molina, J.,Dutra-Clarke, M.,Kim, G. B.,Levy, R.,Schreiber-Stainthorp, W.,Danielpour, M.,Breunig, J. J.; A transposon-mediated system for flexible control of transgene expression in stem and progenitor-derived lineages..Stem Cell Reports. 2015 Feb 24
Conway RL, Danielpour M, Graham JM. Surgical management of cerebellar tonsillar herniation in three patients with macrocephaly-cutis marmorata telangiectatica congenita. Report of three cases. J Neurosurg. 2007 Apr;106(4 Suppl):296-301.
Farmer DL, von Koch CS, Peacock WJ, Danielpour M, Gupta N, Lee H, Harrison MR. In utero repair of myelomeningocele: experimental pathophysiology, initial clinical experience, and outcomes. Arch Surg. 2003 Aug;138(8):872-878.
Mukherjee D, Pressman BD, Krakow D, Rimoin DL, Danielpour M. Dynamic cervicomedullary cord compression and alterations in cerebrospinal fluid dynamics in children with achondroplasia: review of a 11-year surgical case series. J Neurosurg Pediatr. 2014 Sep;14(3):238-244
Danielpour M, von Koch CS, Ojemann SG, Peacock WJ: Disconnective hemispherectomy. Pediatr Neurosurg. 2001 Oct;35(4):169-172.
Akhtar AA, Molina J, Dutra-Clarke M, Kim GB, Levy R, Schreiber-Stainthorp W, Danielpour M, Breunig JJ. Transposon-Mediated System for Flexible Control of Transgene Expression in Stem and Progenitor-Derived Lineages Stem Cell Reports. 2015 Mar;4(3):323-331.
View Publications on PubMed