How to Navigate a High-Risk Pregnancy
May 04, 2022 Koren Wetmore
The week Erin Laber discovered she was pregnant, her obstetrician advised her that her own safety was at risk if she carried the pregnancy to term. Born with a heart condition—bicuspid aortic valve disease—the changes wrought by pregnancy could result in a life-threatening split or tear of Erin's aorta, the main artery that transports blood from the heart to the rest of the body.
---
"Pregnancy is something you normally celebrate, so this was devastating," Erin says. "My condition was stable for ten years, so I didn't think pregnancy posed a health risk."
---
Learning that your pregnancy poses a health risk
Her doctor's concern stemmed from Erin's aortic aneurysm, a weakness in the wall of her already enlarged artery. 
"Pregnancy is something you normally celebrate, so this was devastating," says Erin. "My condition was stable for 10 years, so I didn't think pregnancy posed a health risk."
Her cardiologist agreed with her obstetrician that the pregnancy was high risk, but he also referred her to the High-Risk Perinatal Program at Cedars-Sinai for further evaluation. The perinatal program provides care from a multidisciplinary team that works collaboratively and meets weekly to discuss their patients' needs.
Finding specialty care
At Cedars-Sinai, Erin was first seen by maternal-fetal medicine specialist Dr. Sarah J. Kilpatrick, chair of the Department of Obstetrics and Gynecology and co-director of the High-Risk Perinatal Program.
"I'm thankful that I got in right away to see Dr. Kilpatrick," Erin says. "Every day and every hour felt long at that point."
"Erin came to us in her first trimester feeling very anxious. Her aorta size was stable, but dilated much more than a normal one—something that's common for people with Marfan syndrome," says Dr. Kilpatrick, explaining that Marfan, an inherited connective tissue disorder, can cause aortic aneurysms and life-threatening ruptures.
"Once Marfan was ruled out, we believed we could get her safely through this pregnancy."
---
---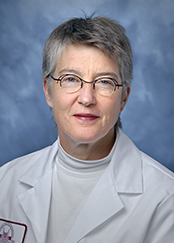 OB GYN-Maternal Fetal Medicine
OB GYN-Maternal Fetal Medicine
Monitoring the heart
Since her pregnancy involved a cardiac issue, Erin next visited Dr. Rose Tompkins, associate director of the adult Congenital Heart Program. 
"We discussed what studies and experience have shown and discovered she actually fell into the more moderate risk category," says Dr. Tompkins. 
"She also met with the cardiac surgeons. We didn't anticipate having to go that route, but it helped her to know she had a full, comprehensive team."
Throughout her pregnancy, Erin was monitored frequently, including echocardiograms every four to eight weeks and multiple appointments with Drs. Kilpatrick and Tompkins. She also was overseen by a multidisciplinary team comprising congenital cardiology, cardiac surgery, cardiac and obstetric (OB) anesthesia, and maternal-fetal medicine.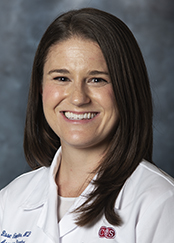 IM Cardiology
Accepting New Patients
Calming the anxieties that come with a high-risk pregnancy
Every step of her pregnancy was carefully planned and carried out.
"It was wonderful finding a team who could say, 'we've done this before and we'll be here throughout your journey,'" Erin says.
Still, at times, the journey proved harrowing. When an echocardiogram in her second trimester suggested her aorta had dilated further, Erin struggled to contain her fears. Her anxieties worsened when a patient at the hospital where she works suffered a ruptured brain aneurysm.
"It basically snowballed into a panic attack," says Erin, who works as a nurse practitioner. "I kept thinking, 'This could happen to me. Mine could rupture and both my baby and I could die.'"
She used the My CS-Link app to message Dr. Tompkins, who soon called her and explained that her aorta had not changed in size. Rather, the minor increase recorded during her echocardiogram was within the standard error of margin for the medical device. 
"For someone like Erin, who works in healthcare, it can be tough because you know the things that can go wrong. So, it was important to explain why I was not concerned and appropriately reassure her," Dr. Tompkins said. 
---
---
Viewing the first ultrasound
There were also joyful moments along the way.
At 20 weeks, Erin and her husband were able to view their baby's heart during a fetal echocardiogram performed by pediatric cardiologist Dr. Dor Markush. Although done to screen the baby for congenital heart disease, the ultrasound imaging provided a unique and precious moment for the expectant couple.
"We saw all her heart valves and chambers and the blood flowing through and learned that our baby's heart was healthy and pumping and strong," Erin says.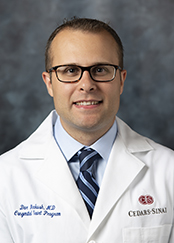 Peds - Cardiology
In-person

&

Telehealth

Visits
As the time for delivery drew near, the multidisciplinary team weighed every decision and option to get Erin safely through childbirth. Obstetrician Dr. Keren Lerner would perform the cesarean delivery. The OB anesthesiologist would keep a careful eye on Erin's blood pressure, and the cardiac surgical team would be on standby should a complication arise. Drs. Tompkins and Kilpatrick would be available, if an emergency consult was needed.

Obstetrics & Gynecology
Accepting New Patients
In-person

&

Telehealth

Visits
Online scheduling available
Giving birth to a healthy baby girl
At 37 weeks, Erin and her husband drove from their home in Santa Barbara and stayed in a hotel in preparation for their 4 a.m. wakeup on delivery day. The next morning Erin gave birth—without complications—to a healthy baby girl, Norah Laber. 
Her pregnancy journey had its scary moments, confessed Erin, but the team at Cedars-Sinai guided her through those difficult times.
"They gave me the reassurance that both Norah and I were being taken care of by people who not only cared about us but also had the experience to back up what they were doing," Erin says. "Seeing Norah now, it was worth everything."
Erin's case highlights how Cedars-Sinai and its high-risk perinatal program helps patients and their doctors. Experts are available 24 hours a day to answer questions or to provide a consult.
"Patients don't have to deliver here unless it's necessary," says Dr. Kilpatrick. "We just want to be there when you have these high-risk circumstances."
Make an Appointment
---
Find a Doctor
Call Us 7 Days a Week, 6 am - 9 pm PT