Double the Joy: Moms Bring Twins Home From NICU
Mar 02, 2022 Rosanna Turner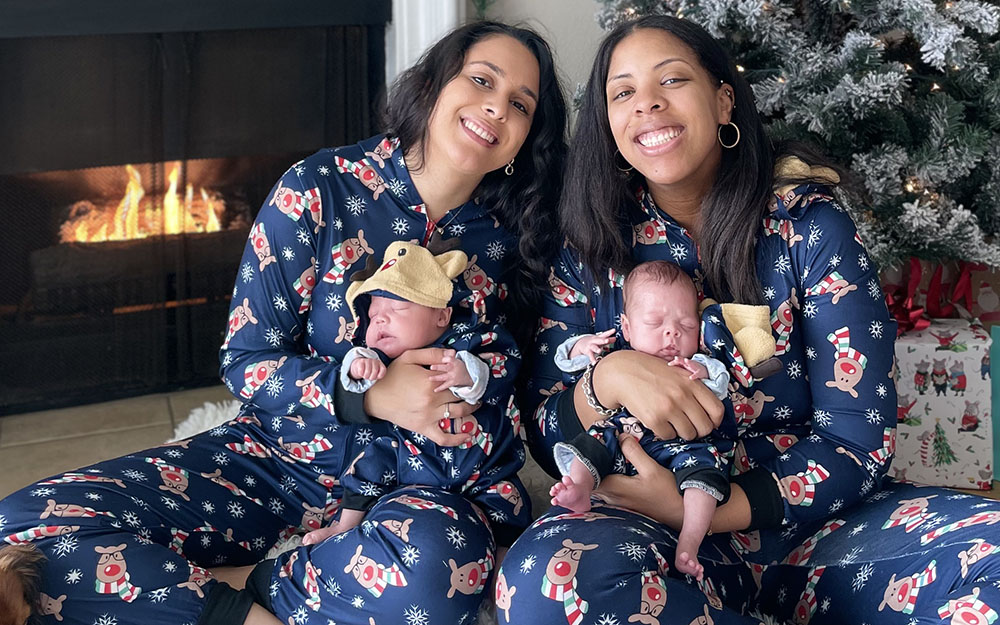 There's a popular nursery rhyme that goes "first comes love, then comes marriage, then comes a baby in a baby carriage."
For new parents Victoria Green and Emily Mendez, the baby came before the wedding ceremony—two babies, in fact.
Emily and Victoria met in spring 2018 when Victoria came into the jewelry store that Emily worked at.
"We started going out as friends at first, but we ended up falling in love with each other," Emily says.
The couple got engaged in fall 2019 and made plans to wed in summer 2021.
"We were going to get married first and then have a baby, but the pandemic changed everything," Emily says.
---
"We were going to get married first and then have a baby, but the pandemic changed everything. We didn't plan for twins, but we've both always wanted twins."

---
Third time's the charm for twins
After putting their wedding plans on hold, the couple decided to undergo intrauterine insemination (IUI). IUI is a fertility treatment in which sperm is placed inside a woman's uterus during ovulation.
Victoria got pregnant during the couple's third attempt at IUI. Emily and Victoria soon learned they were expecting not one but two bundles of joy.
"We didn't plan for twins, but we've both always wanted twins," Emily says.

---
---
Putting the delivery before the baby shower
The moms-to-be had one more surprise when Victoria's water broke while they were on the way to their baby shower.
The couple went to Cedars-Sinai, and the twins were born on Oct. 25, 2021—two-and-a-half months before their expected due date of Jan. 7, 2022.
"I was definitely scared about the twins being born premature," Victoria says. "I was having contractions four minutes apart but wanted to keep them in. However, the doctors told me that I couldn't wait any longer."
Days and nights in the NICU
Following labor and delivery, the twins were transferred to the Cedars-Sinai Neonatal Intensive Care Unit (NICU).
"At first, it seemed like they were going to be in the NICU for a long time, and it was unlikely that our twins would be able to come home on the same day," Emily says. "There were always concerns, but the twins were OK. A lot of the babies in the NICU need a blood transfusion, but ours did not."
Emily and Victoria were able to bring their baby boy, Grey, and their baby girl, Silver, home together on Dec. 9, 2021, after spending almost seven weeks in the NICU.
"The NICU was hard. We'd had these children, but we were not in full control of their care and wellbeing at that time," Victoria says. "I learned that you have to be an advocate for your child. I was there every day, morning until night."
---
---
Finding support
Alva Gregorio, one of the social workers in the NICU, helped Emily and Victoria get through their family's time in the NICU.
"Our social worker was amazing throughout the entire experience," Victoria says. "She was always available and listened when we needed to vent our frustrations. When the twins were in the NICU, I often would eat lunch on the Labor and Delivery floor. Alva always would try to find me to check in."
The NICU can be a traumatic experience for parents and families, so it's important to have a social worker available to support them throughout their child's stay.
"Many parents don't expect that their newborn is going to be in the NICU, and they may not know anyone who has been in that environment before," Alva says. "As a social worker, I introduce them to the world of the NICU and offer guidance. I see each and every family that comes to the NICU. I'm here for any crisis they go through."
---
---
Two newborns can be twice the fun
The twins are now almost 4 months old and doing well. In fact, they occupy most of their moms' time.
"They eat so much," Emily says. "They're doing amazing, honestly. When they first came home from the hospital, they were both super relaxed. But now they're starting to develop their own personalities, like preferring to look at different toys."
Emily and Victoria got legally married before the twins were born and plan to have a wedding ceremony this June. The couple is enjoying being new moms with two newborns to care for.
"We always have a baby in our hands," Emily says. "If Victoria's holding a baby, I'm holding one, too."
---
Make an Appointment
---
Find a Doctor
Call Us 7 Days a Week, 6 am - 9 pm PT