Faces of Cedars-Sinai: Sergeant Jennifer Delatte
Nov 11, 2022 Cedars-Sinai Staff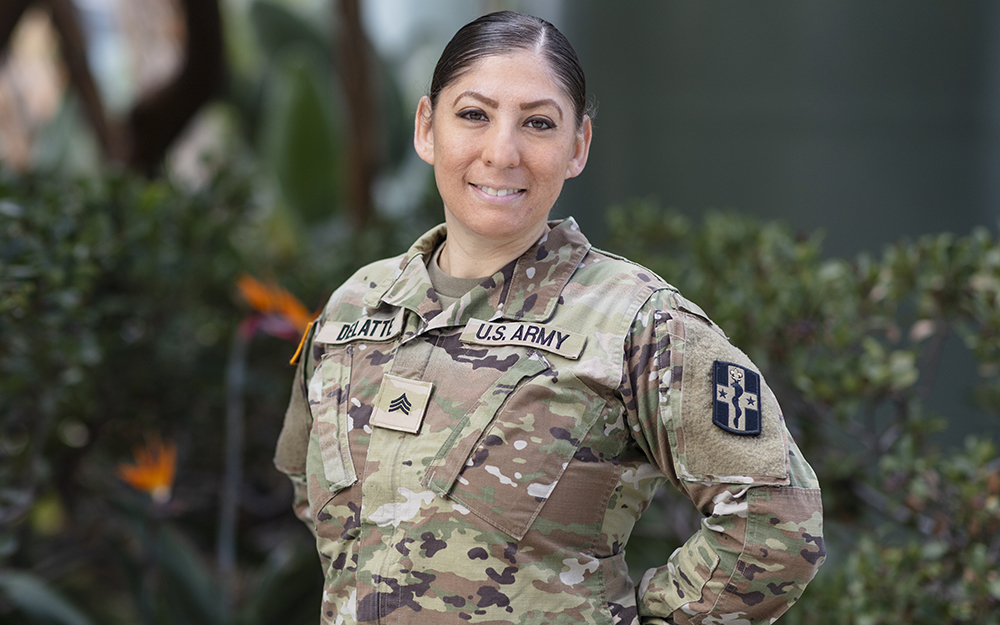 Military veterans work in a wide range of roles and departments at Cedars-Sinai. We're proud of the number of veterans who choose to grow their careers in healthcare at our organization.
In honor of Veterans Day, we talked to Sergeant Jennifer Delatte, a member of the United States Army Reserve and an administrator of the Veteran Program at Cedars-Sinai, about her experience in the military and what she loves about her job.

---
"I love that I can meet with many transitioning service members and provide support as they seek their first civilian career after military service."

---
Q: What made
Cedars-Sinai

the best place to work for you?
Jennifer Delatte: Cedars-Sinai saw the value in my taking on more of a macro-level leadership role. Cedars-Sinai also has a position dedicated to hiring veterans and understanding their value. I am forever grateful to Steve Bettini, my predecessor, and to the recruitment team here for understanding my skills and recognizing my passion.
---
---
What do you enjoy most about your work here at
Cedars-Sinai

?
JD: This position is truly my dream job! I am empowered to create new partnerships and support programs that benefit our employees. I have a hand in recognizing our veteran staff and planning great events to celebrate them. I love that I can travel to the different installations and meet with so many transitioning service members and provide that support to them as they seek their first civilian career after military service. I also love that I can provide support to military spouses.  

---
---
How does
Cedars-Sinai

continue to support your service to our country?
JD: Cedars-Sinai supports my service because they are flexible with my Army Reserve schedule. I enlisted in November 2018, and I continue to serve. We have a vast team at Cedars-Sinai that can provide coverage when I am attending extended drill weekends, and they understand my commitment to the reserve. Cedars-Sinai also partners with the Employer Support for Guard and Reserve (ESGR) program and signed the statement of support for those who serve part time.
Tell us about your favorite assignment while in the military.
JD: My favorite assignment in the military was my three years with the 311th Expeditionary Sustainment Command, a logistics unit here in West L.A. I served alongside some stellar IT professionals in my section and made lifelong friends and colleagues with whom I still keep in touch today. I was promoted from that unit and received my very first Army Achievement Medal while serving there.
What are some differences between military and civilian work life, and how do you create balance between the two roles?
JD:  In the military, I get to be quite a different person, and it's a very different environment than my civilian job. However, the leadership role that I take on stays the same, and my professionalism stays the same. In the Army, I am an IT specialist, and at Cedars-Sinai I'm in HR, so I enjoy having different careers that allow me to tap into multiple skill sets.

---
---
How do you help create community among veterans at
Cedars-Sinai

?
JD:  I help create community among veterans at Cedars-Sinai by empowering them to grow their career and network among each other. I am rolling out virtual monthly lunch sessions where we can all come together and build a stronger bond. I also plan events for Veterans Day and Memorial Day, and I head the VetConnect employee resource group at Cedars-Sinai, which brings veterans together to celebrate their identity as service members and build relationships.
Tags:
Make an Appointment
---
Find a Doctor
Call Us 7 Days a Week, 6 am - 9 pm PT