Honoring Our Veterans
Nov 11, 2020 Cedars-Sinai Staff
Military veterans contribute to the daily operations of Cedars-Sinai in a wide variety of departments, roles and responsibilities.
In observance of Veterans Day—Wednesday, Nov. 11—we spoke with several team members whose paths to Cedars-Sinai began with their decision to join the armed forces.
---
Call to Nursing Leads Young Woman to Air Force
From a young age, Mary Denise Acosta, RN, knew nursing was her calling. Looking back, it is clear why. The field perfectly blends two of her chief characteristics—a zeal for learning, paired with an empathetic heart and spirit.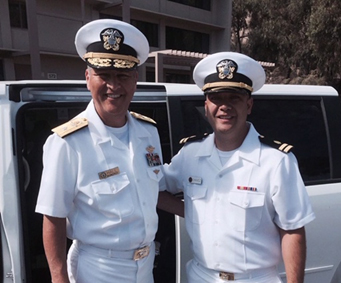 Veteran Jose Chavez
Jose Chavez, DNP, ACCNS-AG, CCRN, served in the United States Navy Reserve from 2012-2020. He earned the rank of lieutenant commander with Expeditionary Medical Facility Camp Pendleton. In 2013, he helped transfer patients and opened the Naval Hospital Camp Pendleton in San Diego. He was the EMF Camp Pendleton Senior Nurse Leader and Medical Unit Director at the Navy Support Center in San Diego from 2015-2017. He helped coordinate the 2015 Navy Reserve Medicine Centennial Commemoration and the first EMF Camp Pendleton Nurse Symposium in 2016. Jose was inspired by his grandpa—a senior chief in the Navy—and inspired to serve under President Barack Obama.
National Guardsman Volunteered to Help After Hurricane Katrina
When Ronnie Zavala started looking into joining the Army National Guard in 2001, he hoped that after finishing his basic training it could essentially be a part-time job. Zavala wanted to go to college, and one of the initial reasons he sought to enlist was to receive GI Bill benefits to help cover the cost.
Adrian Mejia, CN3, 5SCCT
I was part of the logistics of the Air Force—I managed and coordinated all of the equipment, vehicles and personnel that went into the big cargo planes. I got to be part of teams that helped load Navy SEALs for transport, helped move emergency medical transports for wounded people and load crazy things such as tanks and helicopters onto cargo planes. It was rewarding to move emergency supplies when crisis happened, such as hurricanes. 
I was part of an exercise in Alaska where they needed extra people to load helicopters and perform patrol routes near the Alaskan/Russian border. That was more fun than anything because I got to see remote areas that you can only access by air.
Air Force Taught Research Manager: Be Flexible
As the COVID-19 pandemic first began spreading in Los Angeles earlier this year, Felicia Mayes, an Air Force veteran and now a research manager in Neurosciences, viewed the emerging health crisis as an opportunity to act. "That's one thing the Air Force taught me—be flexible," she said. "Even in basic training, they're changing things constantly because they're trying to keep you off-balance to see how you respond.
Kali Whitehurst, CN3
I was deployed to Kuwait in 2019-2020 and worked at the United States Military Hospital-Kuwait (USMH-K). This facility was capable of providing the highest level of medical care available within a combat zone. We also had a Combat and Operational Stress Control unit attached to us that provided behavioral health services. Deployment exposed me to nursing practices outside of the modern medical conveniences I am so routinely used to. It's easy to take for granted the up-to-date technology and resources that we have at our disposal working at Cedars-Sinai.
Teamwork, Grit and Adaptability
When I enlisted in the Navy at 19 years old, I had little idea of what journeys my time in service would take me on. It would set me down a path that I still walk on to this day. I knew I wanted to help people when I signed up to be a hospital corpsman in the Navy.