Faces of Cedars-Sinai: Tony Lambros, Nursing Assistant and Vietnam Vet
Nov 10, 2019 Cedars-Sinai Staff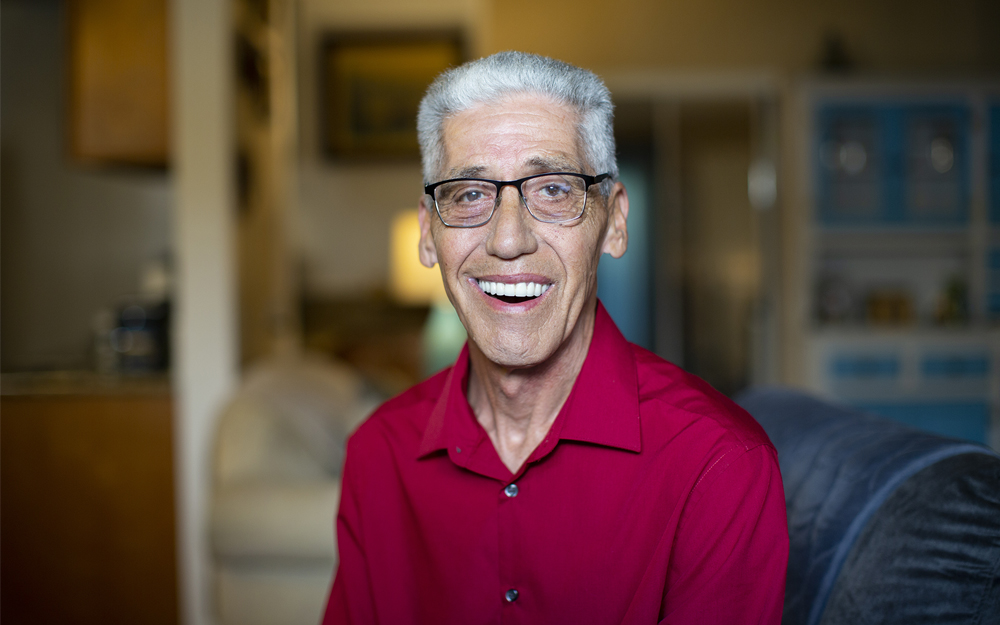 Meet Tony Lambros! Tony is a nursing assistant in the surgery department at Cedars-Sinai Marina del Rey Hospital.
When he became a hospital worker nearly 40 years ago, Tony was no stranger to witnessing wounds that might make many people squeamish.
After serving on patrol boats during the Vietnam War, he says the interview for his first job as an orderly "lasted 5 minutes." Once he mentioned his experience in Vietnam, he says he received a quick answer: "You're hired!"
---
"Tony is a very charismatic person. He's unique. He's very opinionated. But he is the person who will give you the shirt off his back." 
---
"Nothing bothered me," Tony explains. "I could handle patients. In Vietnam, I used to help load wounded soldiers on the medevac helicopters."
Since he left Vietnam in 1970, Tony has resisted discussing his military days. He has only begun to share his story recently in hopes it will help other veterans, especially those who returned psychologically shattered.
"I just think that these poor soldiers have so much inner suffering that they don't know how to release it," he says. 
13 months in Vietnam
Tony's journey began on the South Side of Chicago. He grew up in a large family—he's the 10th of 15 children—that lacked economic stability and often moved from one apartment to another. 
His mother, who stayed home to watch the kids, died when he was 14. His father worked as a hotel bartender and as a counterman at a Walgreens restaurant, among other jobs, to make ends meet. "I don't know how the two of them ever did it," he says.
After graduating high school, he immediately went to work. But with the Vietnam War raging, he soon received a military draft notice.
Tony chose the Navy and eventually entered the Navy Reserve. His thinking was that he "would rather be on a ship than be a land soldier." He says his tough childhood left him better prepared than most for the military.
During his 13 months in Vietnam, which began in June 1969, Tony served on a PBR—patrol boat riverine. He says the 4-man crew spent much of their time stopping and inspecting sampans—flat-bottomed crafts that Vietnamese families would live on—to make sure that Vietcong fighters weren't hidden on board.
The crew also would pick up secret communications for the commander at their base in Binh Thuy and sometimes drop off Navy SEALs on missions.
Tony recalls being in about 8 firefights and says he took a bullet in the leg on one of his first patrols. On another patrol, he says his boat was hit by a rocket and burst into flames, forcing him and his crewmates to scramble out into the shallow water and run for cover.
One of Tony's most dramatic moments came at the end of his tour in Vietnam soon after he boarded a civilian jetliner headed back to the US. While the aircraft was taxiing before takeoff, the Vietcong launched an assault.
"But we finally, with God's blessing, got that plane up in the air and got out of there," he says. "When the captain announced that the plane was in 'safe air,' a lot of us cried because we were going home. It was pretty scary."
Honoring other veterans
Tony never returned to Vietnam, although he spent 8 years in the Navy before completing his obligations as a reservist. He received a purple heart and 3 other medals for his service.
After Vietnam, Tony worked in a variety of jobs in Chicago, but eventually decided he needed a change and hunted for a job in LA, where 2 sisters and a brother lived.
Co-workers say he's a man with a big heart who treats patients kindly.
"Tony is a very charismatic person. He's unique. He's very opinionated. But he is the person who will give you the shirt off his back," says Rosa Aguiar, a surgery schedule supervisor who has worked with him for 25 years.
Tony says he was spared the emotional wounds that some who served in Vietnam suffered. Yet he worries about fellow war veterans, many of whom can't bring themselves to talk about what they witnessed.
He hopes that these veterans can find a way to share their experiences with their families and that his story may help them find a release.
Tony also is concerned about honoring the memory of veterans who have passed away. Rosa says he makes a cemetery visit every Veterans Day and if he doesn't see a flag on a veteran's grave site, he puts one there himself.
Tags:
Make an Appointment
---
Find a Doctor
Call Us 7 Days a Week, 6 am - 9 pm PT