Cedars-Sinai Ranked No. 2 Hospital in the USA
Aug 02, 2022 Jasmine Aimaq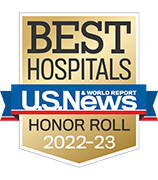 Cedars-Sinai has long been ranked as one of the best hospitals in the United States. Our rankings reached a new peak this year, with U.S. News & World Report naming Cedars-Sinai the No. 2 hospital in the USA on its prestigious "Best Hospitals 2022-23" Honor Roll as well as among the very best in 11 specialties nationwide.
The U.S. News rankings are based on patient outcomes, patient experience, technology, reputation (according to surveyed physicians) and a variety of other health-related measures.
These rankings reflect the tireless commitment of all those who work and practice at Cedars-Sinai to deliver the highest-quality patient care to patients —a commitment that has been especially meaningful during the COVID-19 pandemic.
As the last two years have shown, healthcare is a global enterprise, and Cedars-Sinai International has been expanding its care well beyond U.S. borders, from neighboring Mexico to China, the Middle East, Europe and beyond. Our top U.S. News rankings mean that patients and providers around the world can feel more confident than ever when they turn to Cedars-Sinai for long-lasting partnerships and leading-edge treatments. 
Whether it's a patient traveling to our flagship hospital in Los Angeles for help with a complex condition, or a medical center in Qatar forging an alliance with Cedars-Sinai to benefit from our experience and support, Cedars-Sinai's clinical expertise is available to more people around the world—in person or via virtual consultations and telemedicine. 
That expertise is not just about the finest facilities, the newest equipment, advanced techniques and groundbreaking research: It's about offering respectful, compassionate care that is culturally appropriate, accessible and always based on a dignified and personalized approach. 
With a dedicated Patient Services team that is extensively trained to support international visitors and uses a regionalized approach, international patients can expect a seamless experience whereby they are matched with coordinators and staff who come from the same region as them, whenever possible.
While we are delighted to see our efforts acknowledged with a No. 2 hospital ranking in the USA, we are determined to never stop striving to bring world-class care to millions of people and providing a seamless experience for our referring physicians around the globe. 
Tags: