Rankings
We Care About You and It Shows
The measure of our success is reflected in patient satisfaction scores, increasing clinical performance initiatives, excellent medical outcomes, ongoing research and academic programs, and national designations and awards. The highlights of these rankings include:
---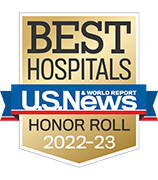 U.S. News & World Report Ranking
Cedars-Sinai is the #1 hospital in California and #2 hospital in the nation on U.S. News & World Report's Best Hospitals Honor Roll, as well as among the very best in 11 specialties nationwide.
NRC Health Survey
For the 20th year in a row, Cedars-Sinai has won NRC Health's Consumer Choice Award for providing the highest-quality medical care in the Los Angeles region based on a survey of area households.

Every year the NRC conducts an independent survey of hospitals. Cedars-Sinai has ranked number one in best overall quality of healthcare and has been awarded its prestigious Consumer Choice Award every year since 1996. NRC's surveys are considered Southern California's "gold" standard in healthcare information.
---
Healthgrades Quality Award
Cedars-Sinai has been awarded Healthgrades's America's 50 Best hospitals. This prestigious recognition makes the third year in a row that Cedars-Sinai has been among top 1% in the nation for consistent clinical quality. This last year, Cedars-Sinai also received 9 Clinical Quality Awards for performing in the top 5% nationally for overall clinical excellence.
---
Top-Rated Physician Groups in Los Angeles
Cedars-Sinai Medical Group and Cedars-Sinai Health Associates, independent physician associations, both ranked among the top 10 physician groups in Southern California by Integrated Health Care Associates (IHA), a California leadership group of health plans, physician groups, and health systems. They were selected from 225 participating physician groups by the IHA based on their provision of recommended care, patient satisfaction and investment in information technologies that support quality care.
---
As the first Southern California hospital to earn Magnet® designation in 2000, Cedars-Sinai Medical Center is the longest continuously designated hospital in California. The American Nurses Credentialing Center found that Cedars-Sinai's nursing services "represent the highest standards in the nation and internationally," and is among an exclusive cohort of hospitals worldwide. Studies show that Magnet hospitals have lower mortality and infection rates, as well as higher patient satisfaction and nurse staffing levels.
---
BlackDoctor.org, the popular online health information resource for African-American consumers, has named Cedars-Sinai to its 2021-2022 Top Hospitals for Diversity List.
BlackDoctor.org specifically cited Cedars-Sinai for its strong commitment in promoting equity and inclusion in the health system's operations, programs, services and staffing. The honor recognizes Cedars-Sinai's ongoing commitment to build and sustain excellence in its diverse academic and medical community.