Heart rhythm disorders (abnormally slow, irregular or fast heartbeats) affect all ages and range from benign to life-threatening conditions. Our expert team relies on a foundation of empathetic patient care to diagnose and treat these conditions. Our dedication to research complements excellent patient care as we discover new tools to predict life-threatening arrhythmias or technologic advancements to provide safety to our procedures. The program's clinicians and researchers work closely with each other to tailor care to the patient's needs for a better quality of life and longevity.

---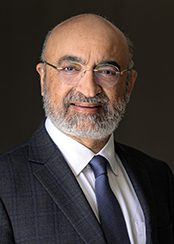 Sudden cardiac arrest is a lethal condition affecting 1000 Americans a day. The new Center for Cardiac Arrest Prevention at the Smidt Heart Institute provides a unique opportunity to push the boundaries of science and make a positive impact."
---
Sumeet S. Chugh, MD
Program Director

Meet the Expert Team
---
Conditions We Treat
We provide a full range of treatments and services for heart rhythm disorders such as atrial fibrillation, familial arrhythmia syndromes and bradycardia.

Electrophysiology News & Updates
Have Questions or Need Help?