Pediatric Obesity: Cedars-Sinai Experts on New Guidelines
May 25, 2023 Cassie Tomlin
Nearly 20% of American youth are diagnosed with obesity. Increasingly, adolescents with obesity are developing debilitating weight-related medical conditions typical of adults, such as fatty liver, hypertension and Type 2 diabetes.
But emerging knowledge about what causes obesity as well as research into successful treatments for the condition point to strategies to address the expanding epidemic. The American Academy of Pediatrics recently issued first-edition guidelines encouraging physicians to consider earlier and more aggressive interventions into pediatric obesity, including intensive behavior and lifestyle counseling, medication, and bariatric surgery.
"Not all kids are the same," says Nicolas Musi, MD, director of the Division of Endocrinology, Diabetes and Metabolism and vice chair of Translational Research at Cedars-Sinai. "Each approach needs to be carefully tailored to each patient by well-trained, thoughtful teams to assure treatment is safe and long-lasting."
Obesity is a complex, chronic disease fueled by genetic, social and biological factors. Here, Cedars-Sinai experts outline the risk factors for childhood and adolescent obesity and its mechanisms and offer context for the new clinical practice guidelines.
Sometimes healthy lifestyle modifications by themselves might not be enough. We're just realizing this and shedding light on what is going to help."
- Michelle Schweiger, DO, pediatric endocrinologist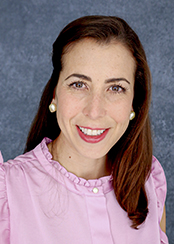 General Internal Medicine
General Internal Medicine
Accepting New Patients
Underpinnings of pediatric obesity
Obesity is generally misunderstood as a simple imbalance in calorie accumulation and energy expenditure resulting in excess body fat, says Amanda Velazquez, MD, director of Obesity Medicine at the Cedars-Sinai Center for Weight Management and Metabolic Health. But the developmental and pathological processes driving the condition are complicated and might be impossible to reverse.
A baby's risk for being overweight is first influenced by genetics transmitted from both parents and expressed according to exposures during the embryonic and fetal stages. If the mother smokes, gains too much weight or develops gestational diabetes during the pregnancy, it can lead to increased birth weight for her baby, which is a risk factor for later obesity.
Acquired programming of the brain and endocrine system through behaviors and the environment also put a child at greater risk for developing obesity, says Dr. Musi. Adverse childhood experiences like trauma, abuse or even sleep deprivation can elevate cortisol levels, leading to leptin resistance, which disrupts a person's ability to feel full.
"The signaling pathway for weight regulation can quickly get disrupted in early childhood and adolescence," Dr. Velazquez says. "It's a domino effect, and a lot of factors are outside a person's control."
Additional factors can make children more prone to being overweight: A poor diet heavy in processed foods encourages more calorie consumption. A sedentary lifestyle, perhaps due to lack of safe space for recreation, can alter a person's neuroendocrine system for life, causing weight gain and altering long-term control of the appetite and the body's ability to burn calories. It is unclear whether medical therapies or changes in habits can effectively fight against that redefined "set point," Dr. Musi says.
"The responsibility for obesity has always fallen to the patient—people are told they're not exercising enough or eating healthfully," says Michelle Schweiger, DO, a pediatric endocrinologist at Cedars-Sinai Guerin Children's. "Sometimes healthy lifestyle modifications alone might not be enough. We're just realizing this and shedding light on what is going to help."
---
---
Pediatric Endocrinology
Guerin Children's Provider
Pediatric Endocrinology
Guerin Children's Provider
Guerin Children's Provider
Guidelines in action
Early intervention recommended by the new guidelines aims to improve children's current health and to mitigate risk of future disease. Research shows that children with obesity are at least twice as likely to develop obesity as adults.
"We're realizing it's probably not the best approach to wait and see," says bariatric surgeon Kulmeet Sandhu, MD.
The new guidelines suggest that pediatric and adolescent candidates for surgery must have a body mass index (BMI) of at least 40, or a BMI over 35 with associated medical conditions like diabetes, hypertension or sleep apnea.
Surgery is only appropriate for children who don't respond to behavioral therapies, and no matter what, behavioral health is at the core of treatment, Dr. Sandhu says. At Cedars-Sinai, before approving teens 15 years old or older for surgery, a multidisciplinary team that includes a dietitian and a psychiatrist works with patients and their families to assure they make healthy lifestyle changes.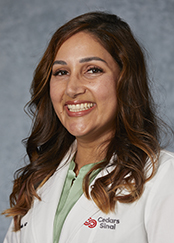 Surgery-General Surgery
Accepting New Patients
Typically, adolescents prepare for surgery with six months of dietitian-moderated peer groups and meetings with dedicated social workers, Dr. Schweiger says.
Some studies show that adolescents who undergo bariatric surgery may improve their whole health, with improvement in diabetes and blood pressure, which can mean they're better able to prevent lifelong ailments.
Physicians can also prescribe weight loss drugs for children 12 years old and older. Two medications that have been approved for several years as well as newer drugs like Wegovy (semaglutide 2.4 mg) can help patients lose weight, improve metabolic health and prevent chronic disease.
"It is hard to think that a young child would need to be on medication for life or undergo a significant surgery," says Dr. Velazquez. "But in some cases, diet, exercise and a healthy lifestyle alone are not working. We need to consider other tools."
---