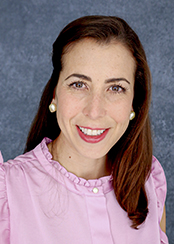 Amanda Velazquez, MD
General Internal Medicine
Accepting New Patients
Locations
Center for Weight Management and Metabolic Health
34.074033
-118.380739
Center for Weight Management and Metabolic Health
8635 W. 3rd St.
Medical Offices West, Suites 770, 795 West
Los Angeles, CA
Get Directions
Monday: 8:00AM - 4:30PM
Tuesday: 8:00AM - 4:30PM
Wednesday: 8:00AM - 4:30PM
Thursday: 8:00AM - 4:30PM
Friday: 8:00AM - 4:30PM
Medical Offices West is located at 8635 W. 3rd Street between Sherbourne Drive and George Burns Road. Self-parking is available in the Medical Offices West parking lot, located on George Burns Road between West 3rd Street and Gracie Allen Drive. Validation is not provided. Building entries are located on Street Level and Plaza Level. Once inside, take the Medical Offices West elevators to your desired destination. For parking rates and hours of operation, please visit cedars-sinai.org/parking .
Experience
Specialties
Area in which a healthcare provider is highly trained and often board certified.
1
General Internal Medicine
Programs
Cedars-Sinai clinical programs this provider is part of:
1
Research Areas
Education & Training
Boston University School of Medicine

Fellowship - Completed 2017

Southern Illinois University School of Medicine

Medical School - Completed 2013

University of North Carolina at Chapel Hill

Degrees - Completed 2009
Achievements
1

Board Certifications

4

Awards and Honors
Board Certifications
General Internal Medicine

American Board of Internal Medicine
Awards and Honors
American College of Physicians
American Society for Metabolic and Bariatric Surgery
Center for Integrated Research in Cancer and Lifestyle (CIRCL)
Samuel Oschin Cancer Center SOCCI
Publications
The Complexities of Iron Deficiency in Patients After Bariatric Surgery
Pharmacological management of obesity
Updates on obesity pharmacotherapy
Weight Recidivism After Roux-en-Y Gastric Bypass Surgery: An 11-Year Experience in a Multiethnic Medical Center
Development and outcomes of an immersive obesity summit workshop for medical resident and fellow education
Development of Obesity Competencies for Medical Education: A Report from the Obesity Medicine Education Collaborative
Insurances
Before scheduling, we recommend checking with your insurance plan to see if an authorization is required to see this doctor. Primary Care Physicians (adult and pediatrics) do not require prior approval.