Matters of the Heart: Alfredo Trento, MD
Feb 13, 2020 Carrie St. Michel

As we approach Valentine's day, we asked Smidt Heart Institute experts to weigh in on the biggest cardiology game-changers to date, as well as the next cardiology breakthroughs. And because nonexperts tend to associate the heart with this anatomically inaccurate emoji and all things pitter-patter—they told us their favorite love stories as well.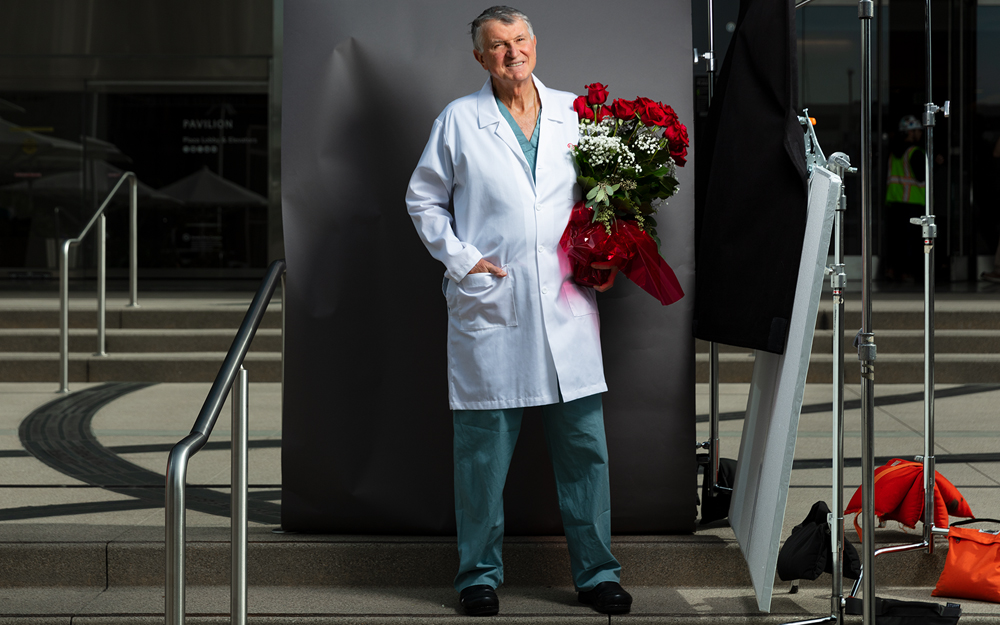 Expertise
Alfredo Trento, MD, performed the first heart transplant at Cedars-Sinai in 1988. Since then, he estimates he's performed more than 10,000 cardiac surgeries—including heart transplants, robotic mitral valve repairs, coronary artery bypass grafts, aortic valve repairs and replacements, and complex multivalve surgeries. His contributions have helped shape the cardiovascular-surgery landscape, but Trento considers his lasting legacy to be training the next generation of surgeons. "My most important endeavor is training them to be better than me."
Game-changer
"In the early 1990s, our heart-transplant team conducted research validating the advantages of a new open-heart-surgery technique called bicaval anastomosis. This technique really improved transplant outcomes, and we helped spread it worldwide." Trento names another game-changer: robotic-assisted surgery. Since 2005, he's been using a robotic-surgical system that has improved patient outcomes for a host of procedures—from coronary artery bypass to mitral valve repair and replacement.
Next breakthrough
Trento points to an aortic heart-valve replacement made of polymers. Patients with mechanical valves must take blood thinners for life, and animal-tissue-based valves have a limited life span. The polymer valves now being tested for safety are not only free of these downsides but can also be offered to patients of all ages—and the surgery is minimally invasive. 
Favorite love story
Nine years ago, one of Trento's patients, a 35-year-old married father of twin 3-year-old boys, developed a rare tumor that triggered sudden heart failure. Nine months later, a donor heart became available and Trento performed a successful transplant. "Seeing the couple in the ICU simultaneously sobbing and hugging, you could feel the love," Trento recalls. "It reminded me how traumatic these experiences are and how important the people we love are to us."
More in the Matters of the Heart series:
Tags: