Taking Care of a Loved One—and Yourself
Mar 03, 2022 Victoria Pelham, illustration by Caitlin Cordtz
When primary care physician Al Tsang, MD, treats a chronically ill or senior patient who is being cared for by a loved one, he keeps an eye out for certain signs. Has the patient been falling, or not eating well, for example? In these cases, the patient's health remains the first priority—but their caregiver's health is also front of mind.
In 2020, more than one in five adults—some 53 million people—were unpaid family caregivers, according to the AARP. Charged with taking care of relatives in recovery from health crises or with conditions such as Alzheimer's disease or cancer, they work long hours, sometimes on top of full-time jobs. It's a commitment that can be all-encompassing and draining, and usually doesn't have a clear end in sight. Often, asking the caregiver direct questions will open the floodgates—they may break down crying, admitting that they are struggling to keep up with the strain.
The associated stress can take a toll on family members' minds and bodies, leading to high rates of depression, poor sleep, increased risk for chronic diseases and vulnerability to infections, according to caregiver advocates. Nearly one-quarter of caregivers in 2020 reported that their own health had worsened as a result of their role. 
"Often, it's hard to reach out to the person caring for the patient, because they think, 'Why should I complain? My loved one is sick,'" says Tsang, an internist at Cedars-Sinai's Tarzana medical offices.
But over time, unchecked stress can give way to burnout, ultimately harming both patient and caregiver—unless someone recognizes the problem and takes steps to remedy it.
General Internal Medicine
General Internal Medicine
In-person

&

Telehealth

Visits
Release Emotions
Caregivers navigate the emotions of a loved one's illness alongside their own complicated feelings. There is also often the issue of "role strain," says Allison M. Mays, MD, a geriatrician in the Cedars-Sinai Geriatrics Program. Someone looking after a spouse or aging parent can experience tension as their relationship dynamic changes.
At a time when it is easy to become socially isolated, caregivers need an emotional outlet more than ever. Support groups, such as those offered by Alzheimer's Los Angeles, can help caregivers connect with others sharing similar experiences.
Providers also encourage caregivers to seek a therapist or other mental health professional who can guide them through common symptoms of stress, including anxiety, depression, exhaustion, helplessness, irritability and frustration.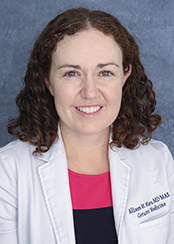 Geriatric Medicine
Accepting New Patients
---
You're doing something really challenging—but also really meaningful." — Allison M. Mays, MD
---
Education Is Vital
Many people become caregivers with little or no preparation, so they're afraid of making a mistake and accidentally hurting the patient.
"There's this idea that someone should just automatically know what to do, but there really is a skill set for caring for someone who has complex medical needs or problems with memory and thinking," Mays says.
A patient's care plan typically includes juggling various doctors' appointments and medications, at-home health screenings and assistance with activities of daily living. In fact, 26% of family caregivers report difficulties coordinating care. 
Learning more about a loved one's specific condition and related tasks can enable caregivers to better understand the patient—and help manage expectations. Chronic illness and aging are unpredictable processes, and patients can take a turn for the worse, regardless of the quality of care. 
"Sometimes, we get thrown a curveball," Tsang says.
---
---
Take Breaks When You Can
While feelings of guilt and responsibility frequently overshadow caregivers, they deserve relief, Tsang says. That's especially true when caretaking wears on for several years. 
"There is a desperate need for more support for people in this position," Mays says.
Regularly enlisting the help of other family members can give caregivers precious time to themselves, as can using professional adult daycare centers for short stays.
---
---
You Matter, Too
Nearly three-quarters of caregivers report not visiting the doctor as often as they should, with more than half skipping appointments, according to the Family Caregiver Alliance. Providers caution caregivers not to neglect their own health and to keep in touch with their doctors.
At home, self-care is key: eating a nourishing diet, exercising and aiming for 7 to 8 hours of sleep. Using tools such as journaling or mindfulness can also help caregivers de-stress.
And caregivers shouldn't be shy about giving themselves credit.
"You're doing something really challenging—but also really meaningful, important and special for your loved one," Mays says.
Look for Burnout
Being there for a loved one in need can be rewarding. But when the demands of caregiving start to outweigh its positive aspects, the caregiver is at risk of burnout—and likely needs support.
Missing Motivation
"Lack of sleep and appetite, losing weight, an unclean house, irritability, not being as vocal about the care of the patient—these are tipoffs that something is going on." 
—Al Tsang, MD, Internist, Cedars-Sinai Internal Medicine—Tarzana 
Cries for Help
"Caregivers of patients who have dementia-related behaviors such as agitation, aggression or disinhibition are at high risk of burnout and should seek support from their healthcare providers."
—Allison M. Mays, MD, Geriatrician, Cedars-Sinai Geriatrics Program