Pictures of Health
Jun 01, 2019 Cedars-Sinai Staff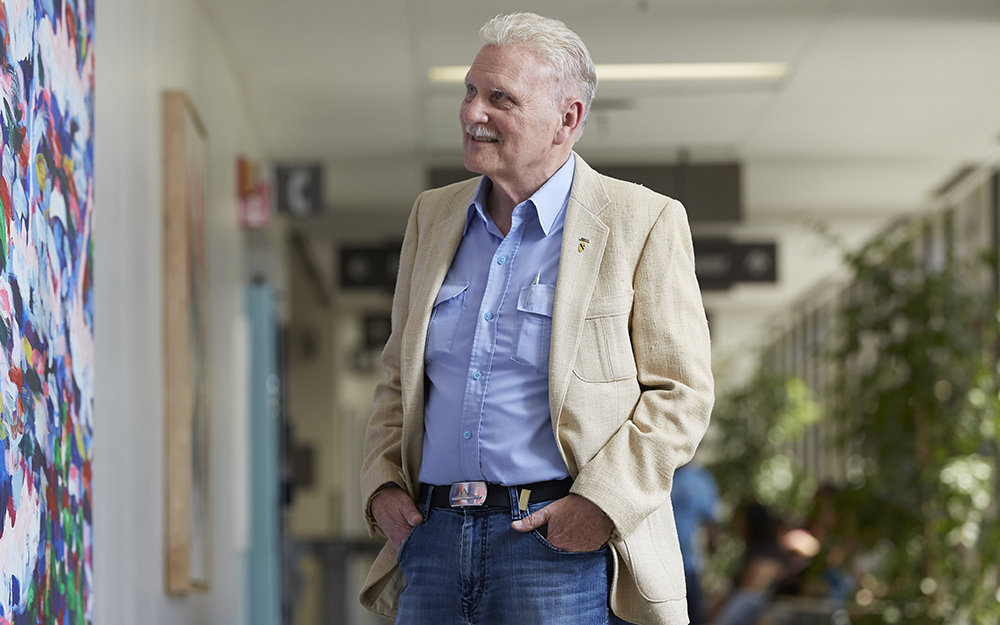 After emergency spinal cord surgery, Jim Caccavo had to learn to walk again. At Cedars-Sinai, a world-renowned art collection helped inspire his recovery.
In 2008, Caccavo, then 65, was rushed into an operation to seal spinal fluid leaks that had caused life-threatening brain bleeds. He woke up shocked, uncoordinated and weak. For the next two weeks, braced against a therapist's arm on strained trips up and down the medical center's halls, he found himself taking frequent pauses—but not to rest. He was captivated by a photograph or a painting, lost in its story, getting to know it better each day.
Caccavo, now 74, says these works of art offered a comforting diversion during a painful time. Having visited friends and family in hospitals before, he'd noticed only charts and machinery—but now, himself a patient, he was surrounded by beauty.
---
"The exhibits are planned to allow for different levels of recovery. People can investigate the works emotionally, visually and intellectually."
---
"Paintings, sculptures, photographs—they're everywhere, and they distracted me in a pleasant way," says the retired photojournalist and Army veteran. "They draw your attention away from your situation, and it softens the place."
Cedars-Sinai's collection of more than 4,000 contemporary works was built on evidence that art heals. Studies show that the presence of art can reduce hospital patients' stress and anxiety and improve moods. Art in hospitals has also been shown to ease pain and improve recovery time. For patients and their families, going home well, and as soon as possible, is a priority. A beautiful, healing environment supports their treatment.
Powerful pieces
Each piece in the collection—including notable works by Andy Warhol and Pablo Picasso—has been donated to the medical center over the course of more than 50 years. Installations on each floor and lobby are specifically planned to complement the medical center's innovative, quality care, says John T. Lange, curator of Cedars-Sinai's Arts Program.
"The exhibits are planned to allow for different levels of recovery," he says. "People can investigate the works emotionally, visually and intellectually."
One physician is leveraging the art collection to speed up patients' recovery time. Timothy Daskivich, MD, a surgeon who specializes in prostate cancer, worked with Lange to create a museum-style tour app integrated with art on post-op floors. The app uses artwork as goal markers for target step counts, and will be paired with an activity tracker to count steps. Researchers hope the app will motivate patients to move more after major operations, which has been shown to help send them home faster.
---
---
The collection doesn't just engage patients, but their families, too, who often spend long hours anxiously waiting for loved ones during procedures or tests.
When two of Marla Miller's family members were recently hospitalized at different times during the same year, she spent a lot of hours at the medical center. Tasked with entertaining her then 3-year-old grandson during stressful days, Miller was grateful for the beauty of the sculpture-filled Healing Gardens.
"Those gorgeous patios really helped me deal with the stressors," she says. "I got to walk around and just drop out. It was like going into a gallery."
Full circle
Jim Caccavo made a complete recovery from the subdural hematomas that landed him in the Emergency Department ten years ago. Now healthy, he returns to the medical center every few months for appointments.
Soon, Caccavo will see his own work on the walls. Cedars-Sinai's Advisory Council for the Arts has accepted one of his photos into the collection. A 1965 image of Ray Charles in triplicate, created by a sandwich of three negatives, will hang on display for all to enjoy.
---
---
Caccavo is proud to have donated his photo to a collection so meaningful to him, and hopes it will spark patients' imaginations.
"When you look at the photo, you can almost hear Ray wailing," he says. "I hope when people look at it, they hear music."
Make an Appointment
---
Find a Doctor
Call Us 7 Days a Week, 6 am - 9 pm PT