After Decades of Research, New Clinical Trial for Cushing's Disease
Jan 15, 2020 Cedars-Sinai Staff
Cedars-Sinai endocrinologist Ning-Ai Liu, MD, PhD, has spent nearly two decades studying the zebrafish pituitary gland. This research has led to a phase 2 clinical trial to study the effectiveness of a new drug to treat Cushing's disease. In humans, Cushing's disease has a median survival rate of four and a half years if uncontrolled.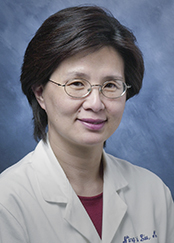 Starting in 2001, Liu, along with other Cedars-Sinai investigators, began establishing a zebrafish model for pituitary drug testing. Unlike mice, who have a low breeding capacity and lengthy internal gestation, zebrafish embryos are transparent and display all major organs just 24 hours after fertilization. Zebrafish also have a genome that is highly homologous to humans. Over 80% of the genes known to be associated with human disease have a zebrafish counterpart, making zebrafish an optimal model organism for studying human diseases.
Liu created a strain of zebrafish predisposed to developing the pituitary tumor that causes Cushing's disease. She then tested therapeutic drugs using zebrafish embryos.
"We were the first to use transgenic approach to model pituitary development and diseases in zebrafish," Liu says. "Furthermore, the Cedars-Sinai Pituitary Center is the only research team that has used zebrafish studies to identify a drug therapy, eventually leading to a phase 2 clinical trial."
The phase 2, multicenter, open-label clinical trial will evaluate the safety and effectiveness of oral R-roscovitine (seliciclib) in patients with newly diagnosed, persistent or recurrent Cushing's disease.
The potential to treat Cushing's disease with greater precision
Treating Cushing's disease poses significant challenges, as many pituitary tumors are too invasive to be removed successfully via surgery.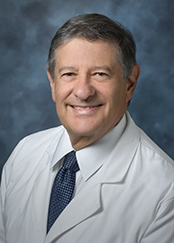 Shlomo Melmed, MB, ChB, is principal investigator for the clinical trial. Melmed serves as executive vice president of Academic Affairs, dean of the medical faculty and professor of Medicine at Cedars-Sinai.

"The reality of Cushing's disease [is often that] these patients undergo first surgery and then recur, second surgery and then recur, then maybe radiation and then recur, and then they develop a chronic illness," Melmed said in an interview with Endocrine Today. "If uncontrolled, this chronic illness is what leads to their demise."
Led by Melmed, Liu and the endocrinology research team at Cedars-Sinai, these advancements in studying pituitary tumors and the clinical trial show promise for future treatment of Cushing's disease.
"We can [now] start thinking about personalized, precision treatment for [Cushing's disease] patients with a higher degree of efficacy and optimism than we could have even a year or two ago," Melmed told Endocrine Today. "This [research] will be an opportunity for us to broaden the horizons of our investigations into this debilitating disorder."
Make an Appointment
---
Find a Doctor
Call Us 7 Days a Week, 6 am - 9 pm PT