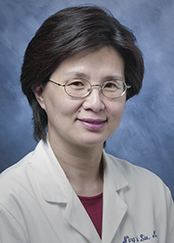 Ning-Ai Liu, MD
Accepting New Patients
Locations
Pituitary Center
34.074508
-118.37909
Pituitary Center
127 S. San Vicente Blvd., Pavilion, Suite A6600
Los Angeles, CA 90048
Get Directions
Monday: 8:00AM - 4:30PM
Tuesday: 8:00AM - 4:30PM
Wednesday: 8:00AM - 4:30PM
Thursday: 8:00AM - 4:30PM
Friday: 8:00AM - 4:30PM
Pavilion is located at 127 S. San Vicente Boulevard between West 3rd Street and Gracie Allen Drive. Valet parking and self-parking are available in the Pavilion Parking lot, located on Sherbourne Drive between West 3rd Street and Gracie Allen Drive. Park in the Gold Zone (Levels B2 and B3) and take the Gold Parking elevators to the Plaza Level. Follow the signs for the Pavilion elevators, and take the elevator up to your destination. For parking rates and hours of operation, please visit cedars-sinai.org/parking
Experience
Specialties
Area in which a healthcare provider is highly trained and often board certified.
1
Programs
Cedars-Sinai clinical programs this provider is part of:
9
Research Areas
Titles
Assistant Professor

,

Medicine
Education & Training
Cedars-Sinai

Fellowship - Completed 2003

Medical College of Georgia

Residency - Completed 1999

Medical College of Georgia

Internship - Completed 1997

Fudan University Shanghai Medical College

Medical School - Completed 1985
Board Certifications
IM/Endocrinology

American Board of Internal Medicine

General Internal Medicine

American Board of Internal Medicine
Publications
Liu NA, Jiang H, Ben-Shlomo A, Wawrowsky K, Fan XM, Lin S, Melmed S. Targeting zebrafish and murine pituitary corticotroph tumors with a cyclin-dependent kinase (CDK) inhibitor. Proc Natl Acad Sci U S A. 2011;108(20):8414-8419.
Xu N, Chua AK, Jiang H, Liu NA, Goodarzi MO. Early embryonic androgen exposure induces transgenerational epigenetic and metabolic changes. Mol Endocrinol. 2014;28(8):1329-1336.
Liu NA, Araki T, Cuevas-Ramos D, Hong J, Ben-Shlomo A, Tone Y, Tone M, Melmed S. Cyclin E - mediated human proopiomelanocortin regulation as a therapeutic target for Cushing disease. J Clin Endocrinol Metab. 2015;100(7)2557-2564.
Liu NA, Ren M, Song J, Ríos Y, Wawrowsky K, Ben-Shlomo A, Lin S, Melmed S. In vivo time-lapse imaging delineates the zebrafish pituitary proopiomelanocortin lineage boundary regulated by FGF3 signal. Dev Biol. 2008;319(2):192-200.
Huang H, Lindgren A, Wu X, Liu NA, Lin S. High-throughput screening for bioactive molecules using primary cell culture of transgenic zebrafish embryos. Cell Rep. 2012;2(3):695-704.
Ríos Y, Melmed S, Lin S, Liu NA. Zebrafish usp39 mutation leads to rb1 mRNA splicing defect and pituitary lineage expansion. PLoS Genet. 2011;7(1):e1001271.
Insurances
Before scheduling your appointment, we strongly recommend you contact your insurance company to verify that the Cedars-Sinai location or provider is included in your network.
Insurances
Insurances
3

3

4

3

1

2

3

1

1

3

2

1

1

2

3

4