Veteran Ronnie Zavala
Nov 11, 2020 Cedars-Sinai Staff
Military veterans contribute to the daily operations of Cedars-Sinai in a wide variety of departments, roles and responsibilities.
In observance of Veterans Day—Wednesday, Nov. 11—we spoke with several team members whose paths to Cedars-Sinai began with their decision to join the armed forces.
National Guardsman Volunteered to Help After Hurricane Katrina
When Ronnie Zavala started looking into joining the Army National Guard in 2001, he hoped that after finishing his basic training it could essentially be a part-time job. Ronnie wanted to go to college, and one of the initial reasons he sought to enlist was to receive GI Bill benefits to help cover the cost.
As fate would have it, though, Ronnie was called to active duty amid Operation Enduring Freedom, the campaign launched after the terrorist attacks on Sept. 11, 2001. Although he served stateside, mostly handling security roles at Travis Air Force Base in the San Francisco Bay area, his duty forced him to delay his higher education.
But it also got Ronnie, a senior onboarding representative for academic and leadership hiring, hooked on public service.
First, he volunteered for a second year of active duty at Travis. Then, when Hurricane Katrina struck the Gulf Coast in August 2005—only eight months after Ronnie had returned to civilian life—he volunteered again. He joined the guard's hurricane emergency response effort in the New Orleans area for six weeks, a stint during which he was promoted to sergeant.
The 40-year-old grew up in the San Gabriel Valley in a single-parent home. His mother often held two jobs to pay the bills.
Going to college wasn't on his radar during childhood. "College wasn't a big thing in my family," Ronnie says. "You get a job, start working and then go that route."
But a couple years after Ronnie graduated high school and worked part-time at Home Depot, a friend persuaded him to pursue higher education. Ronnie didn't want to put a financial burden on his mother so, after being encouraged by another friend to consider the military, he talked to recruiters.
A key question for his Army National Guard recruiter concerned how often soldiers in the guard get deployed. Ronnie had explained to the recruiter that he was planning to go to college.
As Ronnie recalled with a laugh, at that point the recruiter replied, "'Don't even worry about it. We haven't been activated for any conflicts since Vietnam.' I was like, 'Oh, OK, perfect.'"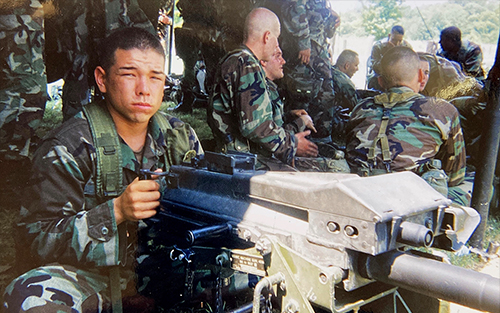 A month after that conversation, the 9/11 attacks occurred. Ronnie still hadn't signed his paperwork but, even though he knew the attacks could change everything, he went ahead and completed his enlistment.

Ronnie received both his basic and advanced training—in what's known as One Station Unit Training, or OSUT—all at Fort Sill, Oklahoma. Soon thereafter, he was back in California, at Travis.
Today, he looks back on those days as a rewarding experience that gave him "the opportunity of meeting so many great people in the military, from all walks of life."
After finishing active duty in December 2004, he volunteered to return for another stint after Hurricane Katrina struck. Ronnie says he was drawn by the idea of "selfless service, that you put others before yourself, especially when someone's in need. And I was in a situation where I was able to provide that support."
He served in the Algiers section of New Orleans, arriving when so much of the city was abandoned that, he says, it was "a little eerie." 
Ronnie describes seeing scenes of demolished homes and other residences with trees toppled onto them. His unit, working with the Red Cross, provided food, water and other supplies to residents who stayed behind or who weren't able to evacuate, and the soldiers also stood guard to prevent looting.
Ronnie stayed long enough to see residents starting to return, and he was gratified by the appreciation the community showed. "It was a really humbling experience," Ronnie says.
Eventually, Ronnie got his chance to throw himself into college studies. He first took community college courses in the Bay Area, and later returned to Southern California and earned a bachelor's degree in business administration at Cal Poly Pomona in June 2015.
Higher education, "was an eye-opener," Ronnie says. "It was meant for me."
He joined Cedars-Sinai's internal temp agency the month after graduating, and soon landed a permanent job. He has been in Human Resources with Cedars-Sinai ever since and was promoted into his current job in June.
The department has been a good fit for Ronnie, who focused on Human Resources courses while working on his business degree.
Allison Rotter, director of Human Resources and one of Ronnie's direct supervisors, says he is very well-liked and a quick learner.
"If you talk with anyone about Ronnie, they're going to talk about his smile, his affability, his engagement with his work and wanting to be the best he can be," she says. 
And what does Ronnie say he learned from his military experience that has helped him in school and in his professional life? "Motivation, dedication and perseverance. Those are some key things I carry with me," he says.
Make an Appointment
---
Find a Doctor
Call Us 7 Days a Week, 6 am - 9 pm PT