Faces of Cedars-Sinai: Dr. Moise Danielpour, Pediatric Neurosurgeon
Jul 13, 2020 Katie Rosenblum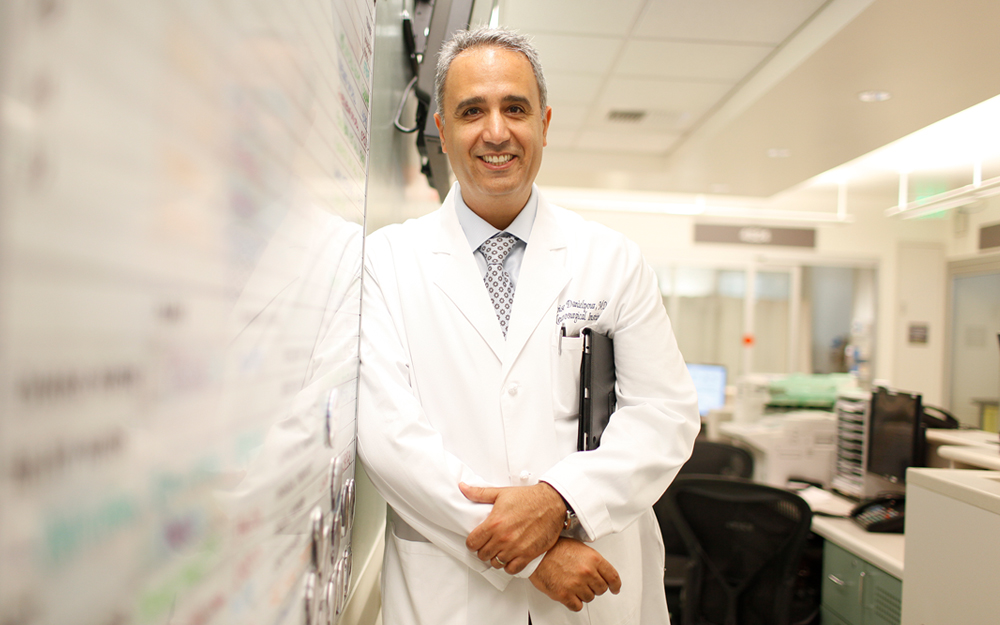 Meet Dr. Moise Danielpour, pediatric neurosurgeon on the Cedars-Sinai Pediatric Neurology & Neurosurgery team! He performs complex surgical procedures on some of our youngest patients. He's also involved in research that could make a difference for generations to come. 
We sat down with the father of two to learn more about his work and his hobbies. 
---
"I love taking care of kids. You make a difference in a kid's life and a make huge impact because they have a lifetime ahead of them."
---
What does your job involve?
Dr. Moise Danielpour: I take care of kids that are dealing with conditions of the brain, spine and central nervous system. That includes hydrocephalus, congenital malformations, tumors and skeletal dysplasia, to name a few.
I also do basic science, clinical and translational research. My colleague Joshua Breunig and I are working on ways to model and mimic diseases in the laboratory so we can learn more about them. I do a lot of research in the area of skeletal dysplasia and achondroplasia, or dwarfism. 
In addition to all of that, I also teach. I train neurosurgery residents about pediatric neurosurgery. 
---
---
What made you want to be a pediatric neurosurgeon?
MD: I love taking care of kids. You make a difference in a kid's life and a make huge impact because they have a lifetime ahead of them. 
Diseases in pediatric neurosurgery are also a lot more interesting and complex than in adults. We treat a wide range of conditions, and that makes it more interesting.
In pediatrics, we also take care of kids sometimes from the time they're born and all the way until they're adults—as opposed to most neurosurgery. An adult has a surgery and they move on. We get to follow these kids and take care of them for years and see them grow up. It's not unusual for me to treat someone for 20 years. 
What did you like to do in your free time before COVID-19?
MD: I like to travel, watch movies, spend time with my family and go for long walks on the weekends. We have a group of friends that we walk with for hours on Saturday mornings up Stone Canyon in Bel Air. We have long talks about philosophy and politics. We joke that we're solving all the world's problems at 7 a.m. on Saturdays.
---
---
What kind of movies do you like to watch?
MD: All kinds of different movies. I like stories that have some historical basis. I also love sci-fi. 
Did you grow up in L.A.?
MD: I'm an immigrant refugee. I escaped the Iranian Revolution as a Persian Jew when I was about 12. I then grew up here in Los Angeles and went to UCLA. 
---
---
What's your advice for someone thinking about a career in pediatric neurosurgery?
MD: It's very satisfying, but it's lots of hard work. It's a wonderful path, and it's a great career choice.
It gives you opportunities to be creative and thoughtful. It's exciting and never gets boring—there's so much left to learn and contribute. It's stressful and often it involves a lot of urgent and emergent cases, but it's very rewarding.
---
---
Make an Appointment
---
Find a Doctor
Call Us 7 Days a Week, 6 am - 9 pm PT