Faces of Cedars-Sinai: Dr. Alyssa Quimby and Dr. Sara Twogood
Sep 26, 2022 Carrie St. Michel
Meet Dr. Alyssa Quimby and Dr. Sara Twogood, two Cedars-Sinai OB-GYNs who are something of a package deal. They're not sisters, but that's how both describe their bond—a bond that was seeded as undergrads at the University of California, Santa Barbara; grew during their medical residencies at Keck School of Medicine of USC; blossomed as medical practice partners; and flourished as Los Feliz neighbors. 
We chatted with the duo about their passion for empowering women by providing factual, accessible information about women's health. We also learned that Wisconsin native Dr. Quimby unabashedly gives her Bolognese sauce a five-star rating and that Dr. Twogood—who hails from the San Francisco Bay Area—adheres to a self-imposed candle-purchasing budget. 
You both selected the specialty of obstetrics and gynecology. Why did this field resonate with you?
Dr. Alyssa Quimby: I'm the third generation of women in my family who deliver babies. The first was my great-grandmother, who was a lay midwife in rural Wisconsin. She went from farm to farm helping women deliver their babies. My mother had a nursing degree and then earned a master's in nurse midwifery. And now I deliver babies as an OB-GYN. 
I feel privileged to care for my patients through all stages of womanhood, from their first Pap smear to pregnancy to menopause.
Dr. Sara Twogood: I started clinical rotations in my third year of medical school. You rotate through all the core specialties—internal medicine, orthopaedic surgery, psychiatry and several others. That included OB-GYN, which I just fell in love with. 
OB-GYN combines everything I was looking for. It challenges you intellectually, but it's also hands-on and very physical. Plus, you have to master surgical skills. 
Obstetrics & Gynecology
Accepting New Patients
In-person

&

Telehealth

Visits
Online scheduling available
In 2019, you both joined
Cedars-Sinai

. What drew you here?
AQ: A big draw for us was that Cedars-Sinai was planning to build an office in Los Feliz. Not only do we both live in Los Feliz, but a lot of patients from our first practice lived in this area. 
ST: We really loved serving those patients, and the opportunity to continue those relationships was a big plus. The Los Feliz office was built from the ground up, and it's beautiful.
---
---
You have a successful partnership. What's the secret sauce?
AQ: As undergrads, we were basically acquaintances. We became friends during our residencies, and our relationship really deepened when we first went into practice together. 
It was just the two of us. We really didn't have any mentors, so we had to rely on each other and figure stuff out. That built a strong foundation of trust and respect. 
ST: Alyssa and I care so much about each other. We value each other's opinions so deeply that we're willing to listen to the other person and have an open mind. We share a commitment to talking things through until we can reach an agreement. 
I think our relationship is so strong because it was intense for a couple of years when we first went into practice together. We worked through it in such a positive, growth-inspiring way. That formed the core of our relationship that we continue to build on today.
---
---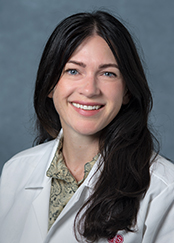 Obstetrics & Gynecology
Accepting New Patients
In-person

&

Telehealth

Visits
Online scheduling available
What's most challenging about your day-to-day work?
AQ: As a society, we haven't done a good job of educating girls and women about their uniquely female anatomy. We need to stop whispering about these body parts as if they're a shameful secret. 
Many patients don't know the difference between the vagina and the vulva, or they're not even comfortable using those words, so they say something vague like "down there." One of our overarching goals is to empower our patients—along with women and girls, generally—to use correct terminology and to understand the function of these parts of their anatomy.
ST: Every day I encounter knowledge gaps about the normal functioning of the female body, including anatomy, menstruation and how contraception works. 
I think a major part of the problem is many people turn to the internet and social media for answers to their medical questions, and a lot of that information is simply incorrect. I've had patients tell me that all birth control pills are harmful, which is not true. Debunking this misinformation is a nonstop battle.
---
---
What can you do to fill in these knowledge gaps and counter misinformation?
AQ: We observed firsthand that factual, accessible information isn't reaching enough women, so we created Female Health Collective, an online magazine that explores a broad spectrum of female health topics. Sara and I contribute content, as do other female health professionals whom we know and respect.
ST: We do one-on-one education with our patients, but our goal is to reach as many women as possible. That's why we also launched Female Health Education, an online platform that offers digital courses and workshops on all things female health.
---
---
You're passionate about your work and women's health education. What are your downtime passions?
AQ: I love traveling. This summer, we took our girls to Guatemala. We hiked around a volcano with a beautiful crater lake, and we explored some amazing Mayan ruins. I also love cooking, and I cook dinner most nights. My specialty is probably Bolognese sauce. I make this very rich, meaty sauce. It's excellent. 
ST: I like tinkering with different kinds of crafts. I make jewelry, and I've also been making a lot of candles lately. 
AQ: Sara is obsessed with candles! She has more candles than anyone I've ever met. She even put herself on a candle budget, which I find very entertaining.
Make an Appointment
---
Find a Doctor
Call Us 7 Days a Week, 6 am - 9 pm PT