Finding the Right Care for a Racing Heart
Dec 09, 2022 Carrie St. Michel
Terri Mulero's heart was trying to make a point.
"It kept saying, 'Hey, there! Hello, hello! Pay attention to me.'" That was Terri's take on the heart palpitations she started experiencing in the fall of 2008, when she was 53.
Several fortunate incidences would then lead Terri to a women's heart specialist who played a pivotal role in her health journey for more than a decade.
---
"If I hadn't come across a story about Dr. Bairey Merz's research, I probably would have ignored my symptoms, and something deadly could have happened."
---
Playing pretend as a patient
Terri grew up in South L.A. She graduated from Compton High School and joined the U.S. Air Force, where she trained for two years as a medical air evacuation technician. Marriage and motherhood then intervened, and Terri welcomed two daughters and a son into the world.
Terri later faced the challenges of being a single mother.
"I did different odd jobs, basically whatever I could take on to support my kids," she says.
The concept of job satisfaction was largely foreign to her. That changed in June 2005, when Terri was hired as a standardized patient at a company called Intealth.
The job of a standardized patient is to accurately portray a patient experiencing a specific illness or medical condition. These make-believe medical scenarios have real-world consequences, as they are a component of the United States Medical Licensing Examination, which medical students must pass to practice medicine in America. Standardized patients wield significant power in the process.
"Not only did we play our assigned patient roles, but we graded the students—pass or fail—on how well they interacted with us and if they followed appropriate protocols," Terri says. "It was challenging work, but it was great."
---
---
A racing heart—and a fateful moment
Terri never had to play a heart patient; that role was reserved for real life. Her intermittent racing heart continued making its presence known, and Terri wasn't the only one who noticed.
"The medical students knew I was a fake patient, but more than once—as part of a vital-signs check—they would listen to my heart and then purposely make eye contact with a look that said, 'This doesn't sound right,'" Terri recalls.
The students' concern confirmed Terri's own, but she didn't have a primary care doctor and wasn't sure what to do. Then another star aligned.
"I was in the break room at work, and there was a copy of Woman's Day magazine. There was a story about women in their 30s having heart attacks. That got my attention," Terri says.
What Terri read next likely saved her life.
"The story mentioned a women's heart center and a Cedars-Sinai cardiologist who specialized in women's heart disease," Terri says. "I thought to myself, 'That's the doctor I need to see'."
The article was referring to Dr. C. Noel Bairey Merz, director of the Barbra Streisand Women's Heart Center at the Smidt Heart Institute. Terri immediately made an appointment.
"If I hadn't come across that story, I probably would have ignored my symptoms, and something deadly could have happened," she says.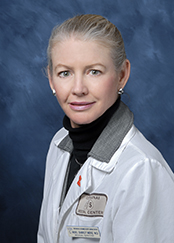 IM Cardiology
Accepting New Patients
Feeling seen and respected
Terri recalls her first meeting with Dr. Bairey Merz, who is also the Irwin and Sheila Allen Chair in Women's Heart Research at Cedars-Sinai.

"She was so kind, and I could tell right away she was a loving person," Terri says.  
Terri was scheduled for a bicycle stress echocardiogram to assess how her heart was functioning. That test quickly came to a screeching halt because her blood pressure was skyrocketing. Dr. Bairey Merz sat down with Terri to discuss the stress test's findings.
"She didn't talk down to me like I was just a dumb patient. I felt like she really cared about me and treated me with respect," Terri says.
Terri's previous healthcare encounters weren't always so pleasant. She recalls emergency department visits where—despite feeling very sick—she was ignored.
"I'm Black, and they thought I was trying to get drugs or a free place to sleep," she says.
Racial inequalities in healthcare have been well documented. For example, a 2019 study found Black women were 50% less likely to be treated when they arrived at a hospital with heart attack or coronary artery disease symptoms than white women.
---
---
Detecting coronary microvascular dysfunction
Dr. Bairey Merz always made Terri feel at ease. Terri shared with her that—in addition to palpitations—she also had been experiencing chest pains.
Dr. Bairey Merz ordered an angiogram that revealed Terri's palpitations and chest pain were due to coronary microvascular dysfunction, a disease of the small blood vessels that impairs blood flow to the heart and primarily affects women. Dr. Bairey Merz has led several seminal research studies showing that women's heart attacks are often caused by microvascular dysfunction.
---
---
Moving on after more than a decade of care
Dr. Bairey Merz developed a treatment plan for Terri that included medications to manage her chest pain and palpitations. Terri would see Dr. Bairey Merz at least twice a year for checkups. 
In spring 2020, Terri went to North Carolina to visit her younger daughter and celebrate her granddaughter's birthday. While she was there, the COVID-19 pandemic pressed a worldwide pause button. Over the ensuing months, Terri decided to leave L.A. in the rearview mirror.
Today, you can find her loving life in Chesapeake, Virginia, where she lives with her family.
Once she knew she wasn't returning to L.A., Terri wrote Dr. Bairey Merz a note, thanking her for "taking such good care of me for these past 12 years." Adding, "If I hadn't decided to move, you would have been my doctor forever."
Make an Appointment
---
Find a Doctor
Call Us 7 Days a Week, 6 am - 9 pm PT