Solving Johanna's Heart Attack Mystery
Jun 04, 2018 Cedars-Sinai Staff
Before doctors in an Orange County hospital finally confirmed her heart attack, they had sent Johanna Flores home—telling her that her chest pain was a pulled muscle and her other symptoms were simply anxiety.
Johanna still cringes recalling the scene in the emergency room, where she'd gone with her 12-year-old daughter and 22-year-old son. "My son looked up my symptoms online and said, 'You're having a heart attack,'" she recalls.
Despite Johanna's insistence, the doctors didn't agree. All her initial tests looked normal.
When Johanna returned to the ER later that day and more tests were done, doctors finally agreed she'd had a heart attack and admitted her for surgery the following morning.
She began treatment for obstructive heart disease, starting with a balloon angioplasty and the insertion of 2 stents to open her arteries.
---
"I wasn't going to stop looking until I found the right doctor."
---
A recommendation
After surgery, Johanna began taking blood thinners—a common treatment for obstructive heart disease—but she still felt something was wrong.
Nothing improved and more procedures followed until she'd had a total of 10 stents inserted into her arteries. Each time, Johanna would go back to work at her job in advertising sales.
When months went by and she still didn't feel well, one of her advertising clients told her to see Dr. Noel Bairey Merz at Cedars-Sinai's Barbra Streisand Women's Heart Center to get to the bottom of her mysterious illness.
---
---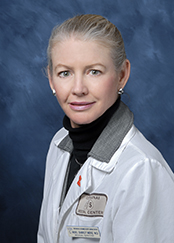 IM Cardiology
Accepting New Patients
The right treatment
In May 2016, Johanna visited Cedars-Sinai for the first time. Women's heart specialist Dr. Bairey Merz ordered diagnostic tests that revealed Johanna didn't have obstructive heart disease at all, and her previous treatment plan wasn't addressing the root cause of her heart problems.
Instead, Johanna has coronary microvascular dysfunction (CMD), a nonobstructive type of heart disease which causes damage to the inner walls of the blood vessels. CMD can lead to decreased blood flow to the heart muscle and ultimately, heart attacks.
Dr. Bairey Merz started her on a regimen of medications for CMD and Johanna finally began her recovery.
"I absolutely love Dr. Bairey Merz," Johanna says. "She takes the time to understand me and talk to me."
Now, Johanna is rebuilding her strength and taking the future one step at a time. Last spring, she traveled to Kauai for a girlfriend's wedding. "My daughter surfed and swam with turtles," Johanna recalls. "It was wonderful."
Sometimes she marvels at her medical journey. "I wasn't going to stop looking until I found the right doctor," Johanna says. "And I found the right doctor. I have so much to be thankful for."
Make an Appointment
---
Find a Doctor
Call Us 7 Days a Week, 6 am - 9 pm PT