Cedars-Sinai Nurses Find a Way to Share Their Smiles
May 15, 2020 Agata Smieciuszewski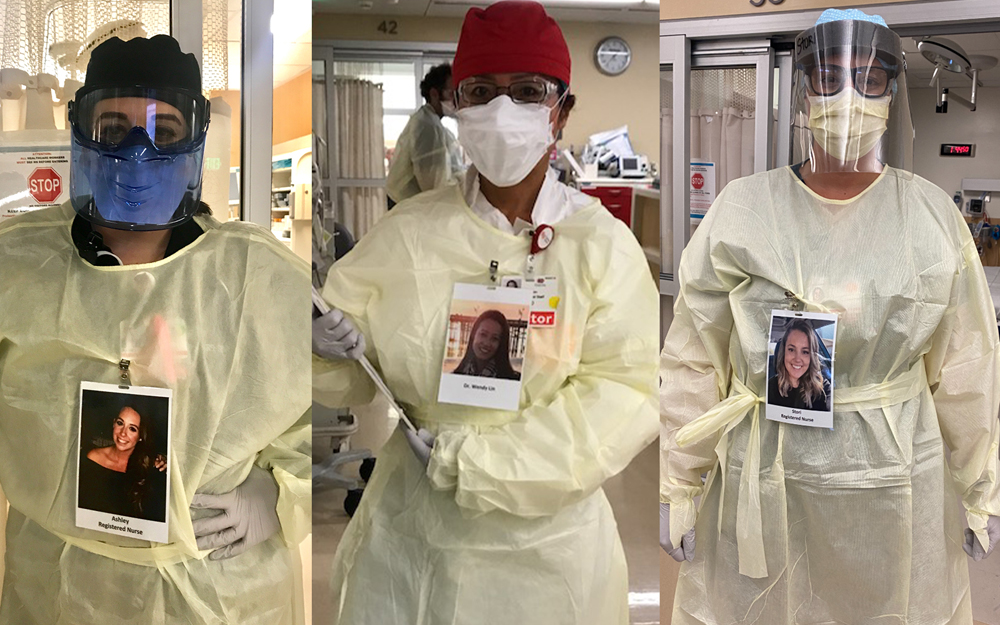 No one should underestimate the healing comfort that comes from seeing a human face—even if it's just a photo. 
That's why nurse Ashley Samaniego asked to bring something she saw online to Cedars-Sinai. The idea is simple but meaningful—staff wear photos of themselves so patients can see the faces behind the PPE.
"I saw this idea on social media, on nurse pages that I follow," she says about the COVID-19 ID project, as it's called at Cedars-Sinai. "I took it to leadership for approval, and then we started it in the emergency room."
---
---
Nurses, doctors, clinical partners and anyone else entering COVID-19 isolation rooms in the ER were asked if they wanted to participate by attaching a laminated photo of themselves—as well as their name and their role—to the outside of their protective gear.
"Right now, there are no visitors allowed in our department," Ashley says. "When you come in, we all look like E.T. We're all covered, and you can't see our faces. This is a way to let the patients know that we're human, that this is what we look like."
Patients have been responding positively to the project.
"When you see a whole bunch of people coming in and wearing hazmat suits, it's a little frightening to have no one there," Ashley says. "A couple of my patients have said, 'Thank you so much. This actually made us feel calmer. It makes everyone seem more personable.'"
---
---
Other departments across Cedars-Sinai also have expressed a desire to roll out the program in their units as well. 
"We have over 50 people just in the Emergency Department participating, and we're looking to expand into other areas such as the ICU (intensive care unit) and respiratory therapy," she says.
Ashley hopes the project will continue to bring a sense of peace to patients dealing with difficult situations. 
"This is a way to let the patients know that we're here for you," she says.
Make an Appointment
---
Find a Doctor
Call Us 7 Days a Week, 6 am - 9 pm PT