Healthcare Heroes: Cedars-Sinai ER
Apr 07, 2020 Agata Smieciuszewski
As the healthcare heroes at Cedars-Sinai prepare for the surge of COVID-19 (coronavirus) patients expected in the weeks ahead, we're checking in with our staff on the front lines to see what the current situation looks like in different departments across the hospital. 
Outside the ER, Cedars-Sinai has designed an entire tent area for patients with potential COVID-19 symptoms to be treated and accessed quickly. They've also dedicated specific areas of the emergency department for more symptomatic patients.
"We've done a great job of getting extra personal protective equipment to keep us safe," says Dr. Vanessa Beckett, an emergency medicine physician. "And as a team, we are all trying extra hard to pick up shifts when needed and make sure that we always have the staffing needed to take care of our patients safely and effectively."
---
---
Cedars-Sinai ER staff is urging everybody to follow social distancing guidelines and practice healthy hand hygiene to help slow the rise of the pandemic. 

"The number one message I would give to people is that it's contagious and you can do your part to prevent deaths and severe illness," says emergency medicine physician Dr. Elizabeth Moye. 
Patients experiencing symptoms span a wide range of ages, from their 20s to their 90s. Due to risk of increased exposure to the virus, visitors are temporarily not allowed in most areas of the medical center.
"One of the things our hospital has been doing to connect patients and their families is using FaceTime," says David Watkins, director of the Emergency Department at Cedars-Sinai Marina del Rey Hospital. "Patients are at least able to see their family members and communicate with them."
In addition, nurses are spending extra time with patients to let them know they're not alone and will do everything they can to help.
---
---
"I continue to see the Cedars-Sinai spirit, which is kindness, courtesy and respect. I see smiles. I see us being compassionate and caring for people—reassuring them and comforting them," says Dr. Sam Torbati, co-chair of Emergency Medicine at Cedars-Sinai.

Support from the community has been overwhelming as well. Many local restaurants have been generously donating food to support the front-line healthcare workers.
"We have a moment to sit together and eat something," says Dr. Moye. "We both recharge our bodies and recharge our minds and commune for a second before going back to work."
"We're all getting ready for a bigger battle," says Dr. Torbati. "We know we're going to continue fighting this, and they're ready to go."
---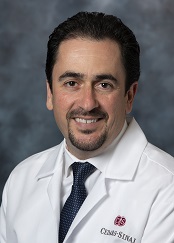 Make an Appointment
---
Find a Doctor
Call Us 7 Days a Week, 6 am - 9 pm PT