Going to the Doctor During COVID-19: What You Need to Know
Apr 20, 2020 Cedars-Sinai Staff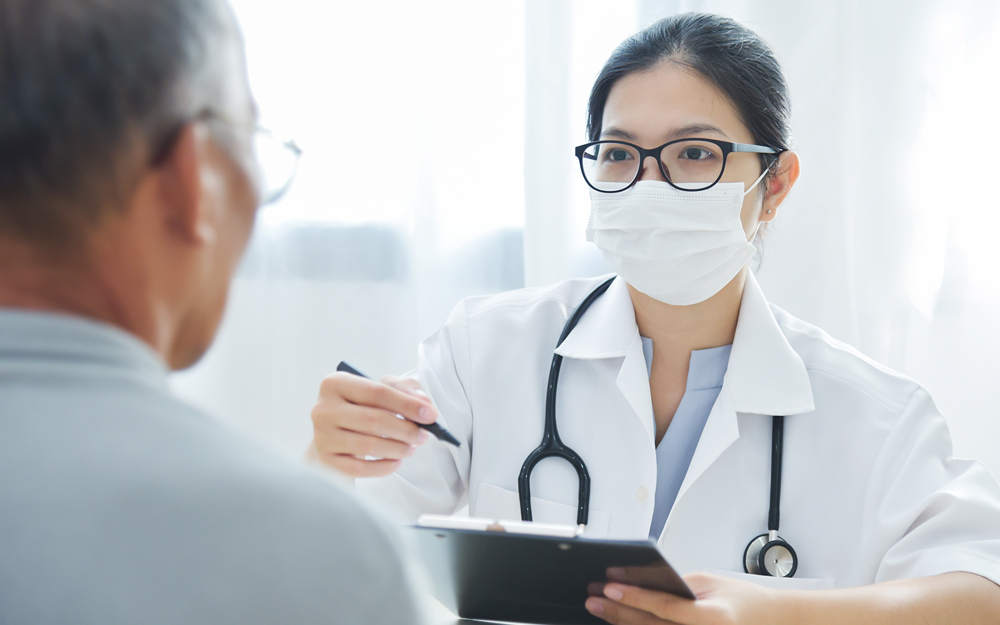 COVID-19 is on everyone's mind, but we know you may have other health concerns.
We mobilized quickly to make sure our patients and staff are safe, and that you continue to receive exceptional care.
---
"Whether you go to urgent care or your doctor's office, you can feel confident that every precaution is in place."
---
Here are answers to common questions we're hearing.
Q: If I need medical care not related to COVID-19, can I get an appointment with my doctor?
Yes! Cedars-Sinai has made its physician force available on My CS-Link. If you have an injury or other medical problem, call your doctor immediately like you would at any other time and they'll determine the next step—whether it's a phone or video appointment, an in-person visit, a trip to urgent care or a visit to the ER.
---
---
Q: When should I go in person and when is telemedicine enough?
Phone or video appointments work well for some situations, says Dr. Jonathan Weiner, chair of primary care at Cedars-Sinai. "Doctors can do routine health checks and monitor certain chronic problems, such as well-controlled diabetes, with a virtual appointment," he explains.
Other illnesses are best handled in the office. Examples include poorly controlled diabetes, high blood pressure, heart or lung disease and mental illness. There's no one-size-fits-all. 
"Call your doctor's office so you can discuss how they can best meet your needs," says Dr. Weiner. 
Q: What is
Cedars-Sinai

doing to make sure doctor's offices are safe?
Dr. Weiner realizes patients may be nervous about in-person visits. Patients are screened for COVID-19 symptoms upon arrival. They have their temperature measured and are asked to wear masks, as do any visitors and personnel. Waiting rooms have been laid out for social distancing. Exam rooms are disinfected between patients. Visitors are limited to one person for patients under 18 and adults who need assistance.
"We're taking these significant precautions and are strictly implementing public health rules," Dr. Weiner  says. "You'll be cared for regardless, but we keep infected patients separate to minimize risk to everyone." 
You'll find the same precautions at Cedars-Sinai's urgent care clinics. 
"We've set up separate sections for respiratory versus non-respiratory symptoms," says Dr. Stacy Tarradath, division chief of urgent care for Cedars-Sinai Medical Network. "We'll ask you questions to figure out the right section for you." 
In the respiratory section, all staff are equipped with additional protective equipment, such as N95 masks and eye shields. 
---
---
Q: What about preventive care?
"We'll never compromise on your care," says Dr. Weiner. "If a test or procedure can safely wait, we're scheduling it for a later time, but otherwise we will take care of you now." 
Preventive health screenings such as mammograms, colorectal cancer screening, depression screening and vaccinations often need to be set up with an in-person exam—as do wellness exams for older patients, as they often require a visual test. By now, patients who can safely be rescheduled will likely have heard from their doctor or will soon. 
Q: I think I need immediate medical attention. Should I call my doctor, go to urgent care or head to the ER?
Here are some reasons to head to urgent care: a rash, stomach pain, nausea, diarrhea, or a cut that may require stitches or a sprain. Please use Cedars-Sinai's Save My Spot to minimize your wait. Simply select a location and a time and follow the prompts.
If you suspect you have COVID-19, contact your primary care physician by phone or through My CS-Link. Your doctor may ask you to go to urgent care, which is equipped to help patients who have mild/moderate cases. If you're in this category, you may have a fever, cough, mild chest pains or shortness of breath. On Save My Spot, you'll be asked if you're coming in for COVID-19  symptoms.
---
---
Go to the ER if you have severe symptoms such as trouble breathing, persistent pain or chest pressure, sudden confusion, sharp decline of energy, bluish lips or face, a heart attack, stroke, coughing up or vomiting blood, a serious burn, a cut with profuse bleeding or a child under 8 weeks old with a fever. 
"Whether you go to Cedars-Sinai's urgent care or your doctor's office, you can feel confident that every precaution is in place," says Dr. Tarradath. 
"We're here for the community," Dr. Weiner says. "We've created the safest possible environment amid this pandemic. We want all of our patients to know that you should contact us when you need care."
Q: I have non-urgent symptoms and would like to talk to a health provider ASAP, what should I do?
In addition to visiting a nearby Cedars-Sinai Urgent Care location, existing Cedars-Sinai patients can also use Video Visits Now for on-demand virtual visits with a healthcare provider for non-urgent healthcare issues.  
Video Visits Now is available between the hours of 7 a.m. to 4 p.m., PST, Monday-Friday, via the Cedars-Sinai mobile app (App Store or Google Play).
Need a virtual visit with a provider? Existing Cedars-Sinai patients can access Video Visits Now on the Cedars-Sinai app to get connected to a health provider that can help you with non-urgent healthcare issues.
Tags:
Make an Appointment
---
Find a Doctor
Call Us 7 Days a Week, 6 am - 9 pm PT