"Molecular Twins" Aid in Personalized Cancer Treatments
Jun 07, 2022 Cedars-Sinai Staff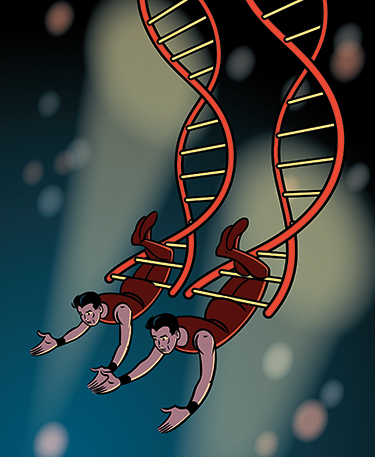 Big data gets harnessed for personalized cancer treatments
Cedars-Sinai Cancer has joined with precision-medicine firm Tempus to design personalized cancer treatments. The partnership harnesses artificial intelligence and big data to create virtual replicas of patients' DNA, RNA, proteins and other molecular information to help identify the most effective approach to overcoming each individual's disease.
By creating these "molecular twins," scientists genetically classify cancer genes and proteins of particular tumors obtained from thousands of Cedars-Sinai patients to build a database that will advance research and treatments everywhere.
"Molecular twins serve as scientific stunt doubles that are always in the laboratory, ready to identify the best current therapies and, perhaps, reveal important details of how a cancer will affect the patient," says Dr. Dan Theodorescu, director of Cedars-Sinai Cancer, and the PHASE ONE Foundation Distinguished Chair and director at the Samuel Oschin Comprehensive Cancer Institute.
The data—stripped of personal details to protect privacy—will offer insights into why some patients are resistant to certain therapies and also provide potential avenues to new treatments. Another aim is to remedy disparities in care.
"While there are success stories with targeted, precision treatments for cancer, they are limited today to only a few cancer types," Dr. Theodorescu says. "Additionally, the research that leads to lifesaving breakthroughs often falls short among certain racial and ethnic groups. I hope that the molecular twin platform will change that since it has the potential to analyze cancer disparities in vulnerable populations and possibly find solutions to closing the cancer health-equity gap by streamlining and reducing the complexity and cost of these tests."
---