Dr. Tiffani Bright: AI Evangelist and Skeptic
Apr 20, 2023 Nicole Levine. Photograph by Ben Rollins.
Dr. Tiffani Bright believes in AI's power in medicine, and she believes developers should wield this technology to support health equity.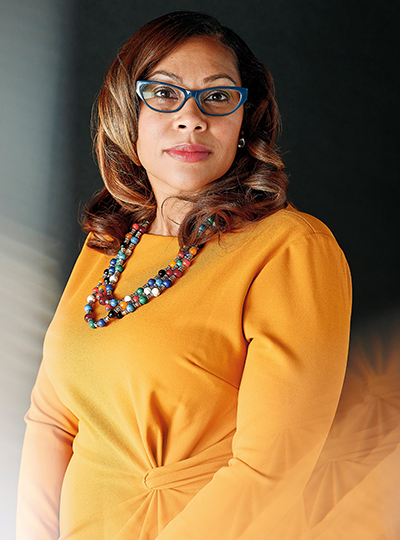 Tiffani Bright, PhD, is a self-described AI champion and skeptic. She works at the nexus of two essential healthcare issues: the profound potential of advancing technology and the importance of health equity. 
"I'm a researcher foremost," says Dr. Bright, a research scientist and co-director of the Center for Artificial Intelligence Research and Education (CAIRE) at Cedars-Sinai. "You must start there. You must come to the present reality knowing where we are and why patients and doctors can be distrustful of the guidance AI provides. I remain an AI healthcare evangelist because I see the potential—and I get that hope from a few recent developments."
Q: One of the key questions doctors and AI experts raise is, "What about the Obermeyer study?" Tell us about that study.
Dr. Bright: In 2019, Ziad Obermeyer was the lead author of a paper published in Science that served as a siren to the entire healthcare informatics community. His study found that a widely used population health algorithm was exhibiting racial bias. By using healthcare costs as a proxy for complex health needs, the algorithm concluded falsely that Black patients are healthier than equally sick white patients and diverted resources from Black patients, exacerbating existing health disparities. We learned a lot from that study, and new best practices emerged. 
Q: What are the developments in AI that give you hope that it can enable more people to access equitable healthcare?
Dr. Bright: The American Medical Association has issued guiding principles for developing healthcare AI. First, it must enhance the patient experience of care and outcomes. Next, it must improve population health. It must reduce overall costs for healthcare systems while increasing value. Lastly, it must support the professional satisfaction of healthcare workers. That's our beacon of hope: AI enabling ethics, evidence and quality.
Q: What human factors must researchers consider when optimizing AI for health equity?
Dr. Bright: I've worked in academic settings and also been in industry, where you can get up close with the technology and the developers. It's very different to be working with innovators who are hungry to push the technology forward but are guided by patients to get it right. AI is being developed everywhere, but in healthcare, the motives, the mission and finding the right team to move forward make all the difference.
It also matters that we have diversity among those who are developing AI. We need racial diversity, we need neurodiversity, ethnic diversity and gender diversity. When you're evaluating an algorithm, you need a team that understands the cultural and social norms of the populations it will be serving. When we develop these tools, are we aware of our teams? Are our teams looking like society? This is a critical element.
Read more about the promise of integrating AI into medicine in our special report: