A Valley Oncologist's Perfect Blend
Mar 02, 2022 Cassie Tomlin, photos by Bill Pollard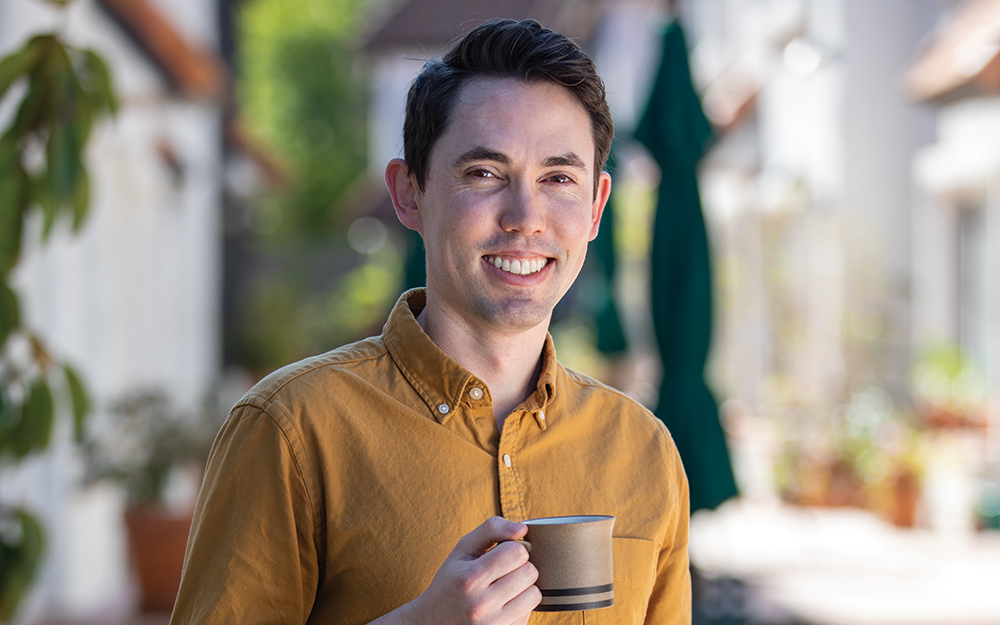 Ryan Ponec, MD, is not a coffee snob.
"After training in medicine, I learned to take any coffee I can get," says the newest physician at Cedars-Sinai Cancer in Tarzana.
Even so, Ponec does make a ritual of his morning pour-over—starting one step before most of us. During medical school, he taught himself to roast coffee, first in a cast-iron skillet that scorched many beans beyond recognition before graduating to more sophisticated machinery.
Today, in his Sherman Oaks kitchen outfitted with a human-height stack of cookbooks and an unmentionable number of coffee-making tools, he roasts small batches of raw, green beans in a machine that looks like a little microwave. For about 10 minutes, the beans fill the house with a baked-cookie smell, announcing they're nearly done with the "first crack," when they expand and split open. Soon after, Ponec lets them cool and rest for a few days before they're ready to grind and decant into an hourglass-shaped coffee maker.
IM Hematology Oncology
Accepting New Patients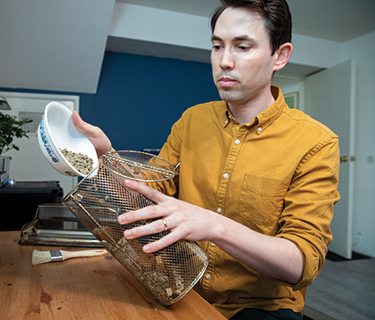 The home roast is an inexpensive luxury that appeals to Ponec's defining scientific curiosity.

"There are so many different compounds in coffee beans—the roasting changes the chemical structure and brings out the sweetness and aromas," he says. "You can experiment with temperature and speed. When you get it right, you can taste blueberries or other notes."
There's an art to the science—and that's the approach Ponec takes to medicine, too. All patients need precise, thoughtful and attentive care, whether they're dealing with a manageable condition such as anemia or confronting complex metastatic cancer. Ponec's first step, after a solid diagnosis, is to work with a patient and their family to decide the best treatment.
"No matter a person's diagnosis, we talk through options and what to expect," he says. "It doesn't matter how straightforward the treatment can seem for us, for the patient and their family, it's always a new, huge, life-altering thing."
Most importantly, Ponec says, he encourages patients to keep in close touch about their questions or concerns, an openness that extends to the entire care team at Cedars-Sinai Cancer in Tarzana. Ponec frequently collaborates with his colleagues—nurses, surgeons and specialists who work in the same building—to share perspectives about different approaches, or news about clinical trials that could benefit some patients.
---
It doesn't matter how straightforward the treatment can seem for us, for the patient and their family, it's always a new, huge, life-altering thing."
---
"It's really important for us to build close relationships—everyone in the office ends up knowing the patient," he says. "When a case is very complicated and needs multiple insights, everyone works together to consider the best treatment for the individual."

Treatments are getting better and more targeted. Embracing new and emerging therapies has been a foundation of Ponec's work since his early training in molecular and cellular biology, analyzing the tiny, unseen mechanisms that drive disease. He pays close attention to advances in medications that can better attack certain cancers, like lung cancer and melanoma.
"Because cancer research is so strong, the standard of care is constantly changing," he says. "Many cancers are still difficult to treat, but we can prescribe so many treatments that target cancer at the most specific level, even for people in more advanced stages."
---
---
The intensity of managing cancer care can weigh on physicians who need to stay engaged and dedicated to every patient. To recharge, Ponec and his husband, Daniel, an attorney, cook dinner most nights of the week—Mediterranean, Thai and Indian meals are favorites. They save more involved dinners, which can become "projects," for weekends, when Ponec also bakes bread and cookies to share (the couple made their wedding cake: a chocolate chip layer cake with passion fruit curd and coffee icing). They also stay active with weekend hikes around the Valley and beyond with their rescue dog, Melvin.

And Ponec also has fun trying new beans, learning to tease out their best qualities to make authentic, personalized, well-considered roasts.
Dr. Ponec's Tips for Great Coffee at Home
It doesn't take too much ambition to be your own barista. Whether you're roasting your own coffee like Ponec does or just want to get the best from store-bought beans, follow these tips.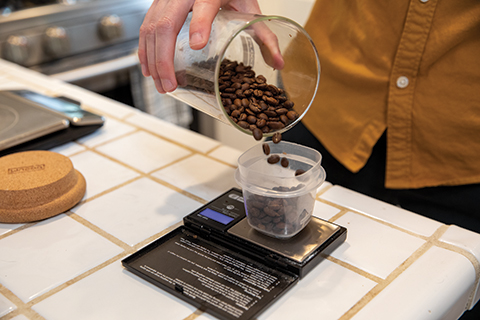 Recent Roast
Flavors in coffee can degrade quickly, so use beans that were roasted recently—buy beans at a local coffee shop.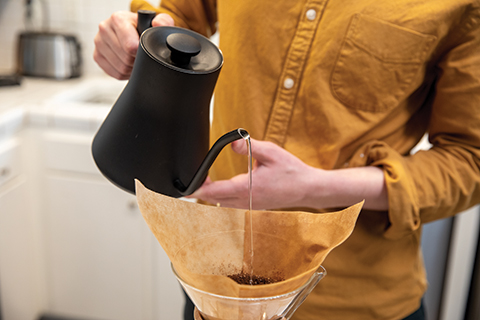 Right Ratio
Experiment with the proportion of beans to water to get the right strength. Ponec uses about 1:17 beans to water by weight for black coffee. If you add milk or cream, consider a stronger brew.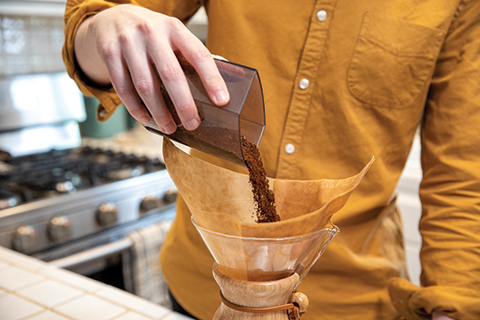 Rise and Grind
Wait to grind your coffee until immediately before you brew—crushing the beans releases their flavors, but oxygen depletes them.