A Storied Life
Apr 01, 2019 Katie Sweeney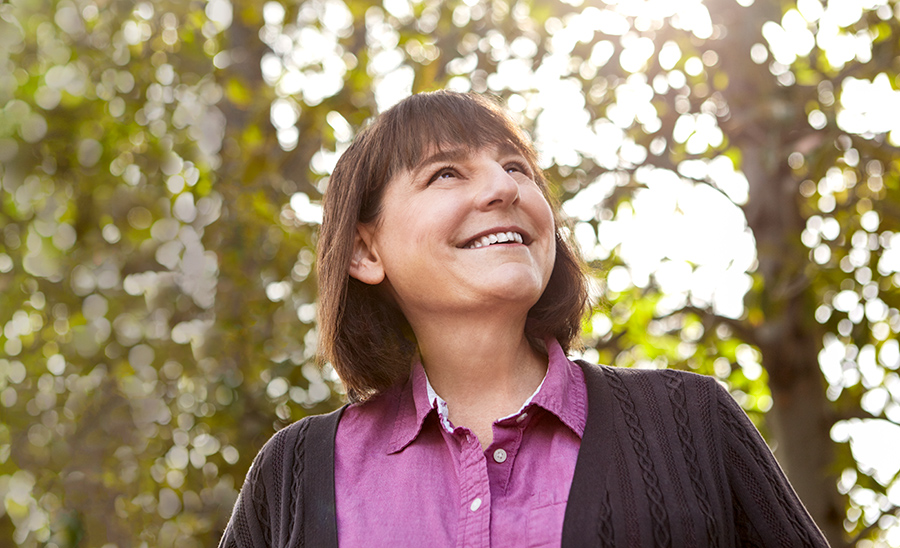 With the help of her doctor, writer Lisa Seidman beat cancer with laughter, a lot of stories—and one very special Emmy.
The scene: Lisa Seidman's cozy living room.
A picture window looks out on a tree-lined street in Sherman Oaks, California. A coffee table is covered with books, papers and two arching Emmy statuettes. And Seidman, 61, is leaning back in a slipcovered easy chair, doing what she does best: telling a story.
This particular story is about how much fun she had during her chemo treatments, at the office of Cedars-Sinai oncologist Johnny Chang, MD.
Wait—whaaat? "Fun" and "chemo" in the same sentence? How is that possible?
To find out, you'll have to read a little further. Because if Seidman were writing this story, she would create suspense. She would weave in multiple plot twists. She would keep you guessing until the very last scene.
"That's what I love about writing," she says. "Love it, love it, love it, love it."
'Lisa lives life!'
Growing up on Long Island in Massapequa, New York, Seidman would literally dream plots for her favorite TV shows, like Mission: Impossible and Star Trek.

"I would wake up thinking, 'Wow, I wish I could see these on the air,'" she remembers. "And then I thought, 'Well, if I write for TV, I can.'"
So in 1982, fresh out of graduate school, Seidman moved to Los Angeles and began pounding the pavement to sell her scripts. Her tenacity paid off, and soon she was writing for primetime hits such as Falcon Crest and Dallas and, later, a string of daytime soaps—Sunset Beach, Guiding Light, Days of Our Lives.
She even embarked on a five-year adventure in Moscow, where she was head writer for several Russian telenovelas, including the national sensation Poor Anastasia. And, in 2011, she published her first novel, Killer Ratings, a murder mystery drafted early in her TV career and steeped in industry knowledge.
"My father always said, 'Lisa lives life!'" she says. "Everything would be big, exciting, momentous. Every time I came home, I had a story."
Indeed, the stories flow out of Seidman as reliably as cars flow out of the Valley on a Monday morning—except much faster and a whole lot more fun. Kicking back by the picture window, clad in light-blue jeans and laced-up athletic shoes, she reels off one rip-roaring tale after another.
On moving to L.A.: "I flew out here thinking I had this gig, and I would be the only person to ever move to Los Angeles and not have to starve. Then I got here and waited all summer for the phone to ring."
On the inspiration for her novel: "I wanted to kill my boss, but I didn't want to go to prison, so I killed her off in my book instead."
She punctuates many of her anecdotes with hearty, happy laughter—even when the stories are about cancer. And she has quite a few of those.
Cancer has made a surprise appearance in her life's script twice. The first was Hodgkin's lymphoma when she was 38. Eighteen years later, in 2013, it was breast cancer. The lump was tiny, but it was an aggressive tumor type characterized as HER2/neu. She would need a year of treatment.
At first, she broke down sobbing on her boss's couch. Then she laid out a familiar game plan.
"From now on, everything that happens is a story," she vowed. "A funny story."
Lisa never showed much negativity. She never let her disease stop her."
Johnny Chang, MD
Fun at Chemo
It helped that she met Chang, now medical director at Cedars-Sinai's oncology practice in the San Fernando Valley. Seidman liked Chang's straightforward and optimistic approach. But she really loved his sense of humor. At that first appointment, Seidman found herself bursting into laughter.

"You're hired!" she told him. "If I have to go through this, I want to go through it with you."
The feeling was mutual.
"When you get cancer a second time, it's tough," Chang acknowledges. "But Lisa never showed much negativity. She never let her disease stop her. I really enjoyed that about Lisa."
At the time, Seidman was writing full time for The Young and the Restless. She took just one day off. She was so busy, she actually looked forward to her chemo infusions at Chang's office.
"They give you medication to relax, and ahhhhh," she says, tossing her head back, closing her eyes and throwing her arms out wide. "It was the one day when I could just check my brain at the door. And the chemo nurses were so wonderful—every single one of them."
The side effects, which showed up later, were not so wonderful. Her hair fell out, and she threw up "every three seconds." Still, Seidman kept writing. Grateful for the superb and compassionate care she was receiving from Chang and his team, she named a character on The Young and the Restless after him.
"I never felt sick when I was working," she says with a shrug. "I wrote some of my best stuff when I had chemo because I was so focused."
During her treatment, Seidman even won a Daytime Emmy, the second of her career. She accepted the award onstage in a wig replicating the dark brown, chin-length hair that she had lost during chemotherapy.
Shortly afterward, she brought the golden statuette to one of her appointments—and let Chang hold it.
"He started running around the office giving acceptance speeches and having everyone take his picture," Seidman recounts, laughing again. "I told my friends, 'I never thought I'd have more fun at chemo than I do writing for soap operas.'"
Life After Cancer
Since finishing her treatment in 2014, Seidman has been cancer-free. She notes that many of her adventures—her time in Russia, her two Emmys, her published novel—came after one or both of her cancers.

"There is life after cancer," she says firmly. "Big time. Big-big-big-big-big time."
There also is life after soaps, which she retired from writing in 2017. She now mentors new generations of writers at the University of Southern California, and she has a full plate of other projects. One of them is close to home: She has been banding with neighbors to fight several "McMansion" rebuilds in her historically recognized, post-World War II neighborhood in Sherman Oaks, where she has lived since 1989.
Seidman sees Chang twice a year for checkups. "We talk about her health and how she's doing, but she also tells me about her fight to preserve her neighborhood," he says. "That's the relationship we have."
And of course, she's still writing—working on a sequel to her novel and doing research for a screenplay. She doesn't really consider herself retired. She has many more stories to tell.
Johnny Chang, MD
Chang is a board-certified hematologist-oncologist who has practiced in the San Fernando Valley since 2004. He graduated from medical school at UCLA, where he also completed his residency and fellowship. Originally from Taiwan, he came to Southern California at age 13. Chang credits his parents for encouraging him to become a doctor, adding, "It was the best thing I could have asked for in a profession." He and his wife have two sons.

New Tarzana Center
Lisa Seidman's oncologist, Johnny Chang, MD, is among the many physicians moving to the brand-new Cedars-Sinai medical offices in Tarzana this summer. The facilities will feature a full-service cancer center, making care more convenient for San Fernando Valley residents. Services include oncology, internal medicine, imaging, radiation oncology, radiology, and a breast and oncology subspecialty clinic.

Tags: