What to Expect at Your First Mammogram
Oct 18, 2018 Katie Rosenblum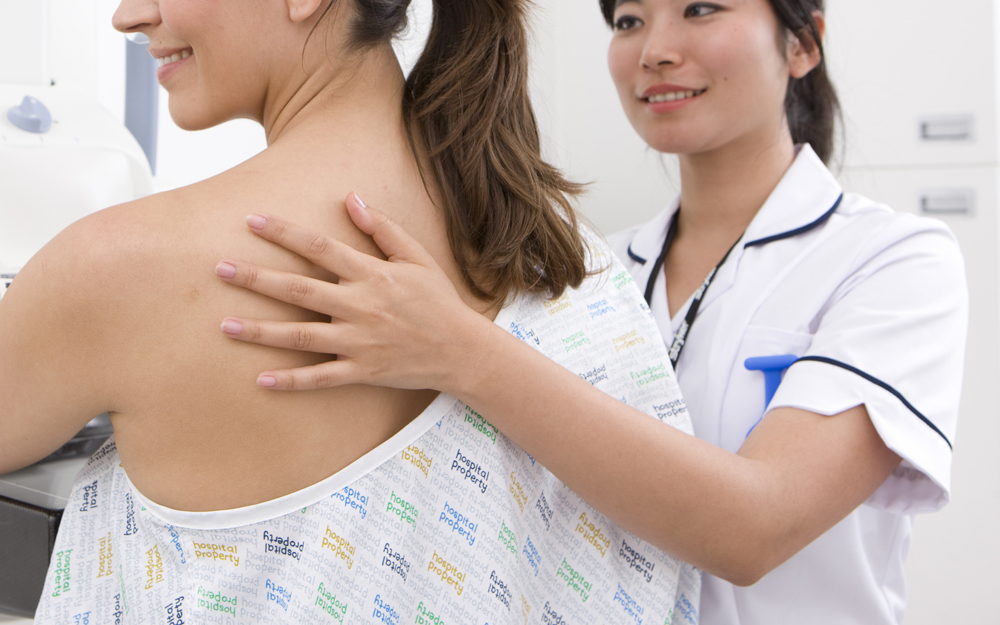 Getting ready for your first mammogram can be a little scary. You might be imagining a machine flattening your breasts like a pancake—and let's face it, that's not a fun visual.
"Everybody knows somebody who's had a mammogram, and there are always horror stories," says Jenny Ton, mammography technologist at Cedars-Sinai. "All you've heard are bad things."
But the truth is, mammograms save lives and are something that should be done annually starting at age 40. The good news is that with a little bit of preparation, the exam can be a lot less stressful.
---
"Mammography is an early-detection tool, if we do find something, it's usually in the early stages and helps give patients the best outcomes."
---
What is a mammogram?
A mammogram is a low-dose imaging system used to examine breast tissue. It can help doctors detect abnormalities, like lumps that are too small to be felt, and research has shown that annual mammograms can help detect cancer earlier—when it is most treatable.
"Mammography is an early-detection tool," says Jenny. "If we do find something, it's usually in the early stages and helps give patients the best outcomes."
---
---
What to expect during your mammogram?
When you arrive, you will undress from the waist up and will be given a gown to wear. It's important that you do not wear deodorant, lotions, oils, or perfumes on the day of your exam, as these will interfere with the machine.
During the mammogram, you and a trained technician will be the only ones in the exam room. The tech will position your breasts one at a time in between 2 plastic imaging plates, which will apply pressure while taking the X-ray images. Multiple images will be taken from different positions.
"It can be uncomfortable, but we need to apply the pressure to spread out the tissue so that we get a clearer image of the breast tissue," says Jenny. "The more pressure that is applied, the less radiation will be needed to get an optimal image."
Jenny says this is the most important part, but it's also the part patients dread the most.
"The reaction is usually to tense up, but if you're anticipating pain, you will tense up and your muscle will be fighting the machine," she says. "The more relaxed you are, the easier it is to tolerate."
The entire exam will only take about 10 minutes.
---
---
"When we're done, patients usually tell me it wasn't nearly as bad as they had been imagining," Jenny says.
If your doctor ordered a diagnostic mammogram due to a change in symptoms, a radiologist will review your scans while you are there. Additional imaging, like an ultrasound, may be requested.
If your doctor ordered a screening mammogram or you needed further imaging, a radiologist will read your scans and send a report to your physician, usually within 48 hours.
It's important to remember that it's not uncommon to get results that indicate suspicious findings. Often, these results are benign and could be caused by dense breast tissue or cysts.
While the thought of getting your first mammogram might seem daunting, it's important to make it a regular part of your preventive healthcare routine.
---
Make an Appointment
---
Find a Doctor
Call Us 7 Days a Week, 6 am - 9 pm PT