DOs and MDs: What's The Difference?
Jul 08, 2021 Jasmine Aimaq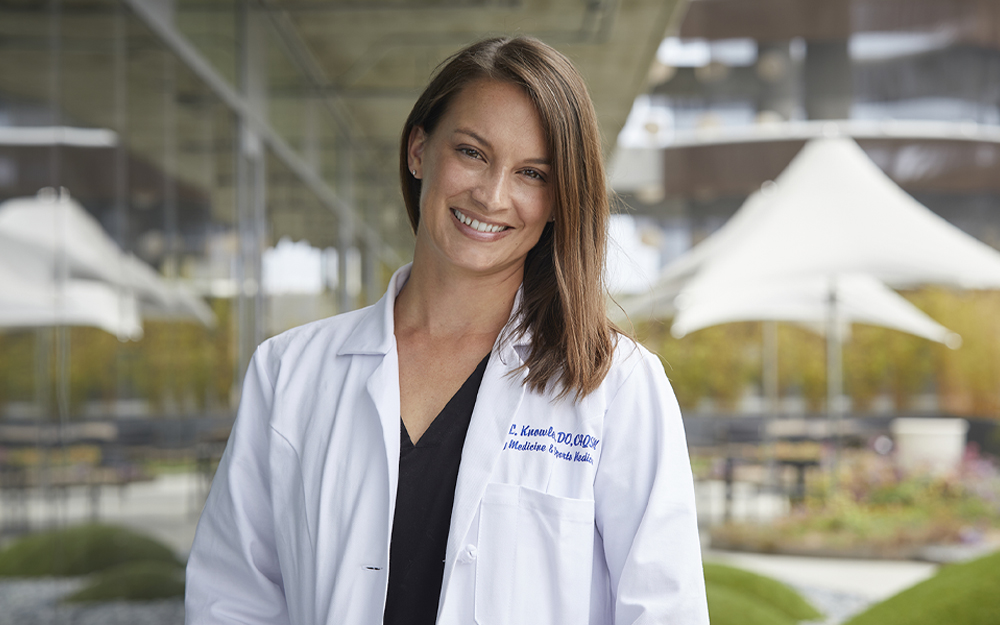 If you're like millions of Americans, your primary care provider has the initials DO rather than MD after their name. Doctors of osteopathy (DOs) were once known as holistic practitioners, which may sound like they were part of alternative medicine. That isn't the case.
"'Holistic' meant that you treated the whole person and were involved in every aspect of your patient's health—emotional and physical—developing a long and stable relationship with them," says Lacy Knowles, DO, a general practitioner at Cedars-Sinai.
---
---
A brief history of osteopathy
With their rigorous medical educations, over the years DOs have come to play a central role in medicine in the U.S. and are especially prominent in primary care, which involves prevention and diagnosis, disease management, prescribing medication, delivering treatments and making referrals to specialists when needed.
Dr. Knowles has been part of the profession for a decade as it has definitively entered the mainstream, a trend that has enriched medicine by broadening the pool of providers who can offer care. DOs don't get their schooling in the same institutions as MDs but must complete the same curriculum including anatomy, biology, physiology and chemistry, with the added requirement of 200-250 hours of hands-on musculoskeletal work.
---
---
"It's the same education, with an added component that is similar to what chiropractors and massage therapists learn," says Dr. Knowles.
It's this component that left DOs on the sidelines of primary care at first, but that training—Dr. Knowles says—was always a benefit for patients, as the rest of the medical profession eventually understood.
"We were always able to provide that extra dimension of care, as we recognized the power of touch and of seeing illness as more than a collection of symptoms," she explains. "Today, MDs recognize the importance of treating the whole person. I like to think that DOs were a bit ahead of the curve."
---
"We were always able to provide that extra dimension of care, as we recognized the power of touch and of seeing illness as more than a collection of symptoms."
---
Osteopathy today
Today, DOs are also known as osteopathic medical doctors and are licensed to practice medicine and surgery in all 50 states, as the distinction between DO and MD has steadily faded. They are also accepted in all medical residency programs.
When Dr. Knowles began her education, there were only 25 accredited colleges of osteopathic medicine in the U.S. There are now 37 such schools educating more than 30,000 future physicians—25% of all U.S. medical students, according to the American Association of Colleges of Osteopathic Medicine. As their numbers grow, some DOs pursue residencies in various specialties, from cardiology to oncology. But DOs have long been especially important as general practitioners in underserved populations, where access to medical care can be scarce.
With a general shortage of family doctors in the U.S., many DOs have found their practice increasingly focused on primary care elsewhere too, and offer less of the musculoskeletal work that was part of their training.
---
---
"I went into medicine to help people, so I'm happy to serve as a general practitioner—although I still provide manual therapy," says Dr. Knowles, who went on to do a fellowship in sports medicine after completing her family medicine residency. "We go where the need is. That's the principle that underlies my philosophy of care."

At Cedars-Sinai since 2017, Dr. Knowles appreciates the emphasis on innovation, patient outcomes and multidisciplinary care for which the medical center is known. She sees a wide range of patients in her practice, which brings new challenges and new joys every day.
"Cedars-Sinai is a great environment," she says. "Regardless of their individual backgrounds, the doctors here all share one passion and one goal: to make people as healthy as they can be. I am proud to be part of it."
Make an Appointment
---
Find a Doctor
Call Us 7 Days a Week, 6 am - 9 pm PT