From Life-Changing Crisis To Heartfelt Reunion
Sep 01, 2018 Cedars-Sinai Staff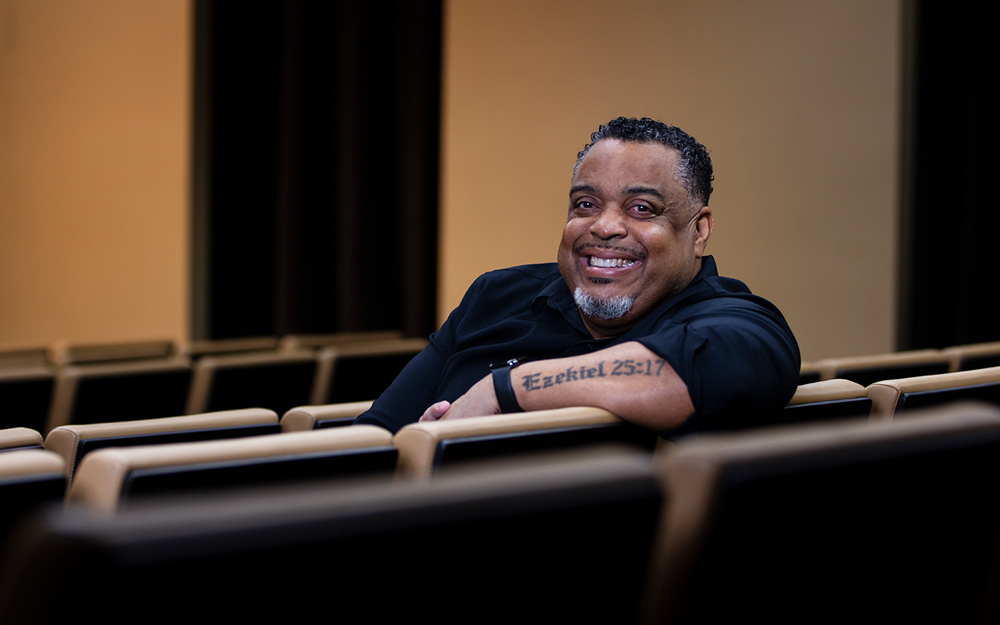 Robert Hill was used to taking care of others. Then came a shocking diagnosis and a new perspective on life.
In the 2 years since Robert Hill received a heart transplant, he's experienced many moments that felt like miracles. None were as powerful as when he met his donor's family.
He'd been writing to his donor's mother and learned the young man whose heart was keeping Robert alive left behind a baby girl. Being a single father to 7 daughters himself, he was saddened by this news. 
---
"The aftermath of a transplant is challenging but totally doable. I advise people not to be afraid of that. I honestly feel great."
---
Then Cedars-Sinai asked Robert to be part of the Donate Life float in the 2019 Rose Parade. After visiting the float's construction site one day, he returned to the parking lot on a shuttle. Seated near him was a group, including a baby, wearing matching T-shirts featuring somebody's initials. 
---
---
Robert and the group began talking, and the truth slowly revealed itself. This was his heart donor's family—including the man's mother and baby daughter. They had showed up the same day to dedicate a rose in memory of their loved one. The baby reached for Robert's hand and grabbed his fingers. His donor's mother put her head on his chest and listened to her son's heartbeat. Together, they wept. 
"My donor's mother and I are deeply connected," Robert says. "I carry her son's heart inside me, and that's a big responsibility."
A trip to the ER
Robert went to the emergency department at Cedars-Sinai in 2016 expecting to be treated for a bad stomach ache and released. Instead, his doctor gave him a stark choice.
Behind door No. 1, a heart transplant. Door No. 2, death within 48 hours.
"I never saw it coming, and I wasn't ready," Robert says. 
A single father and a former member of the Air Force, Robert was used to being the protector, not the patient. He knew he'd have to walk through No. 1, but he remained stunned.
---
---
An unexpected turn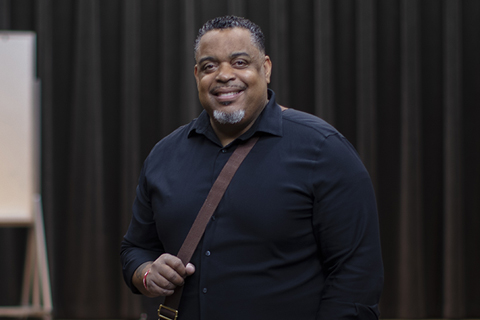 Robert was diagnosed with cardiomyopathy in 2005 after experiencing shortness of breath and an elevated pulse. 
"I'd always taken my meds and thought I was doing OK," he says.
In winter 2016, things had taken a turn. He underwent a heart ablation, but by February, there was trouble again. It was around the Super Bowl and his mother had made her famous gumbo. 
"Usually, nothing gets between me and that gumbo!" he says. "But I felt so ill that I couldn't eat." Robert had recently seen a friend receive exceptional care at Cedars-Sinai, so he asked a driver to take him there. "I'm so grateful I made that choice," he adds.
The medical staff triaged him fast, but he remembers little of those hours, other than waking up with doctors standing over him, giving him life-changing news.
A time to reflect
Then came the wait. Robert spent 2 months mostly bedridden at Cedars-Sinai, praying for a donor heart. It gave him time to reflect on life, his faith and his family. 
But there was a lot of fight left in Robert and his loved ones. His daughter Tori made him promise he would do anything to stay alive. Family, friends and colleagues wrote the word "victory" around his home and office at Glendale Community College, where Robert works as Dean of Student Services. 
"Before this, I'd never even told my family I had cardiomyopathy," he says. "I never wanted them to worry." Robert had always put others first. Now he was the one in need. "To accept that I would have to lean on my kids—that was deeply humbling. Coming so close to death, I realized how much we all depend on each other."
---
---
A remarkable team
Robert got his new heart on April 8, 2017. Today, he is thriving.
"The aftermath of a transplant is challenging but totally doable," he says. "I advise people not to be afraid of that. I honestly feel great."
Robert has deep affection for the whole healthcare team, and he grew close with his cardiothoracic surgeon.
"The physicians I met at Cedars-Sinai were not just great doctors, but remarkable people," he says. The nurses, staff and volunteers also became like family. "It was emotional when I went back to visit," he adds.
Robert credits his team at Cedars-Sinai and his family's support with helping him through his recovery. And, he feels a responsibility to his donor and his donor's family.
"When I take care of myself, I am taking care of him, too," he says.
---
Tags:
Make an Appointment
---
Find a Doctor
Call Us 7 Days a Week, 6 am - 9 pm PT