Crossing the Bridge to a New Heart
Aug 01, 2018 Cedars-Sinai Staff
In one year, Erika Heranic survived a heart attack, cardiac arrests, stroke, life with a left ventricular assist device and a heart transplant. How'd she do it? One step at a time.
Erika Heranic has spent her life taking care of people. The Lake Elsinore middle school teacher raised two children and takes a personal interest in helping her students—both inside and outside the classroom. 
---
"Some people are scared of getting an LVAD or going through transplant, even though they need it. It's a hard road, but you can do it! Giving up is not an option. Keep moving forward, one step at a time."
---
But two months before her 51st birthday, Erika suddenly was the one who needed help. 
"Ma'am," an emergency room doctor told her, "you're having a heart attack." 
"I was looking at him, thinking, 'What are you talking about?'" she remembers. She had no idea that the symptoms she'd been experiencing for months—increasing fatigue, weight gain, sinus pain and searing lower back spasms—were signs that her heart was in trouble.
And there was more trouble to come. Six months after her heart attack, she was admitted to a Riverside County hospital when she began having multiple cardiac arrests (sudden heart stoppages). Several open-heart surgeries followed. Then, when surgeons there attempted a procedure to correct her heart's abnormal rhythms, she had a stroke on the operating table.
---
---
Erika emerged completely blind, and unable to walk and talk. Her heart was rapidly weakening. 
"I was pretty out of it. I thought I was just being heavily sedated," she says.
In reality, she was dying.
Living with an LVAD
Erika was rushed by ambulance in the middle of the night from the Riverside County hospital to Cedars-Sinai.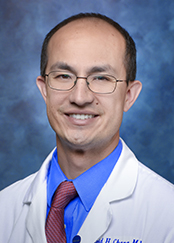 "She was extremely sick when she arrived," says Cedars-Sinai cardiologist David Chang, MD. "Her heart wasn't pumping enough blood to her body, and she had life-threatening arrhythmias. It's not uncommon to see this kind of scenario in heart attack patients. People can become very sick very fast."
Fortunately, surgeons at the Cedars-Sinai Smidt Heart Institute were able to implant a lifesaving left ventricular assist device (LVAD) in Erika's chest. An LVAD is a battery-operated mechanical pump that helps failing hearts pump blood. The device serves as a critical "bridge" to heart transplant.
---
---
Essentially, it buys patients precious time, allowing them to become strong enough to qualify for a heart transplant—and to survive a potentially yearslong wait for a donor heart. 
Thanks to the LVAD, Erika regained consciousness and was able to go home three weeks after the surgery, just before Thanksgiving. Still, life with an LVAD was a big adjustment.
"I was someone who had always been in control of everything," she explains. "I had my family, my job, my data planner—I was going to do this, this and that. You've got it all planned down to a T. To have all of that taken away, to have to depend so much on other people to help you—it's hard."
Her husband, Jeff, became her full-time caretaker. Jeff regularly changed the special LVAD bandage and helped her with almost every task. Showering was an exhausting undertaking. So was getting dressed. By then, her sight and speech had mostly returned, but learning to walk after her stroke—with a bulky battery pack attached to her—was a slow process.
"An LVAD is very intimidating. It's very scary at first," Erika says. "There were times when I was like, 'Seriously? Not today.' Sometimes you just lose it."
---
---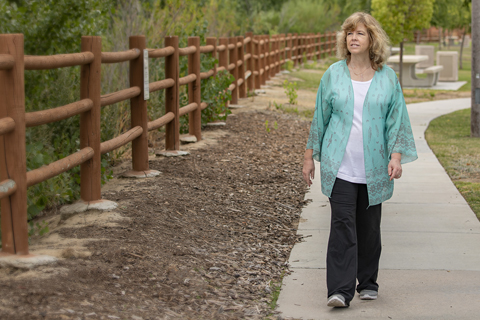 Still, after a good cry, she'd regroup and start thinking positive again. Her physical therapist told her to do "just five more steps" each day. It became her mantra. Over time, she developed a routine with the LVAD and was even able to go to lunch with friends.
Meanwhile, she kept her mind focused firmly on her goals. Her daughter, Shelby, was close to getting engaged and wanted Erika to be part of the wedding. Her son, Mike, insisted she be around for future grandchildren. And her former students visited and texted regularly, keeping her spirits up. 
Two months after coming home, Erika was strong enough to make the transplant waiting list. And late one night in April—a year after her original heart attack—Cedars-Sinai phoned.
A donor heart was waiting for her. 
'Giving up is not an option'
It's been over two years since Erika's heart transplant. Today, she walks 1.3 miles every morning and hopes to return to teaching next year. She's back to playing keyboards in the student/teacher band at her old school and is an ambassador for organ donation. And when her daughter married in June 2018, Erika participated in the entire wedding day.
She is grateful to her family and friends for their enduring support, to Cedars-Sinai for saving her life and for being her daily "cheerleaders," and most of all, to her donor heart family, whom she has since met and befriended.
Her biggest advice to patients? Don't let fear hold you back.
"Some people are scared of getting an LVAD or going through transplant, even though they need it," she says. "It's a hard road, but you can do it! Giving up is not an option. Keep moving forward, one step at a time."
Transplant Recipient Is Part of the Donor's Family Now
Read how Erika Heranic met the family of Dylan Stump, the 19-year-old college student whose donor heart led to Erika's lifesaving heart transplant—an encounter 2 years in the making.
Make an Appointment
---
Find a Doctor
Call Us 7 Days a Week, 6 am - 9 pm PT