The Secret to Happier Holidays
Dec 18, 2016 Cedars-Sinai Staff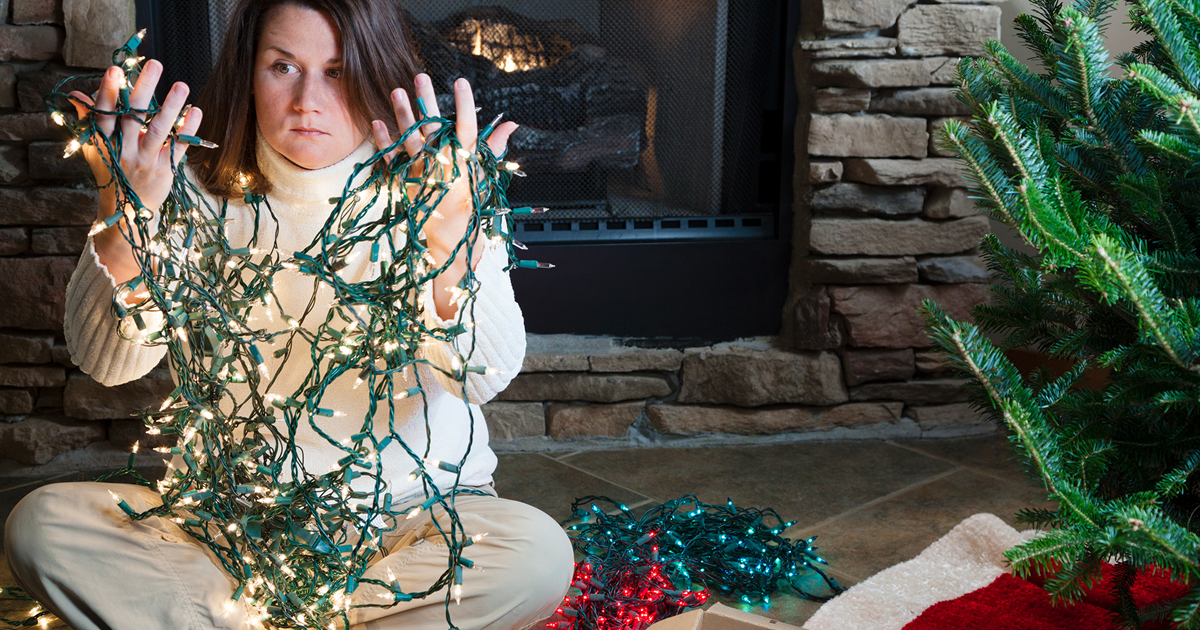 For many, the holidays bring as much stress as they do joy.
Busy schedules, family obligations, and the pressure to find the perfect ironic (or ugly) holiday sweater can add up.
---
Give yourself the gift of self-care.
---
You probably can't avoid holiday stress, but you don't have to let it crowd out holiday cheer—the two can coexist. Knowing what you can control and exercising that control can help mitigate stress, protect your mental health, and set you up for happier holidays.

"Keeping perspective on the purpose of the holidays is key," says Dr. Waguih William IsHak, vice chair of the Cedars-Sinai Department of Psychiatry and Behavioral Neurosciences. "This is a time to express appreciation, love, and togetherness."
In addition to focusing on the purpose behind the celebration, give yourself the gift of self-care.
In the flurry of holiday obligations, it's easy to skip the little things we do to feel good. Take the time you need to take care of yourself.
That doesn't have to mean scheduling a massage or treating yourself to a weekend getaway. (Although those are ok too!) It can be as simple as the tips below—anything you do to nurture your physical, emotional, or mental health counts.
---
---
Tips for Happier Holidays and Your Mental Health
Don't let chores pile up. Putting things off only prolongs the stress. Stay on top of everyday tasks like dishes, bills, and medical appointments so your post-holiday to-do list doesn't become a monster of its own.
Make time for you. Read a book. Listen to music. Chat with a friend. Don't let your schedule crowd out the hobbies and activities that you love.
Fuel your body. Think of food as fuel. Fuel your body with fruits, lean proteins, and vegetables. Don't forget the main reason we eat is to give our bodies energy—and during the holidays, you will need energy, so treat yourself to high quality fuel.
Move your body. Whether you're a gym regular or you just take the occasional walk around the block, prioritize exercise. This is as much for mental health as it is for physical health. Exercise-induced endorphins—your brain's natural feel-good chemicals—are a good remedy for the holiday blues.
Limit social media. The holidays already put pressure on our ordinary lives to be something closer to perfect. Don't add to it by comparing your stressful day to online highlight reels.
Connect socially. Instead of clicking the "like" button, call, text, and spend time with people you care about. Prioritize the people who support you year-round.
Embrace mindfulness. Enjoy the present moment. Let go of expectations and worries about these busy weeks and months, and focus on what is happening now.
Keep a gratitude list. Pause to appreciate the facets of your life that bring you joy—good health, a great pet, friends, family, the place you live, your own good qualities.
---
---
The tips above can help you manage the stress of the holidays, but there will always be unforeseen challenges, so keep this one in your back pocket:
If you find yourself seriously overwhelmed, try this (if you have a heart condition, check with your doctor first): Put a cold pack on your eyes and cheeks for half a minute and hold your breath.
This can trigger the "dive response," which slows your heart rate and redirects blood flow to the brain and heart. This can give you immediate relief from anxiety and buy you time to figure out your next step.
Tags:
Make an Appointment
---
Find a Doctor
Call Us 7 Days a Week, 6 am - 9 pm PT