Supporting the Spine From Adolescence to Adulthood
Mar 07, 2022 Cedars-Sinai Staff
The spine surgery program at Cedars-Sinai, part of the #1 ranked hospital for Orthopaedics in California by U.S. News & World Report, is among the busiest in the country. But the high volume alone is not what makes the program unique.
"What makes our program special is how comprehensive it is," says David Skaggs, MD, executive vice chair of the Department of Orthopaedics and director of Pediatric Orthopaedics. "We have over 30 spine specialists—an equal mix of neurosurgeons and orthopaedic surgeons, along with non-operative specialists—who care for patients from birth throughout their lifetime."
While most spine programs do not include pediatric care, Dr. Skaggs believes doing so has some distinct advantages.
"When patients come to Cedars-Sinai, their surgical team has the absolute highest level of expertise and experience," says Dr. Skaggs. "And, when they turn 18, they don't have to change physicians or facilities. Spine surgery is major part of a family's life, and when they develop trust and connection with their surgeon, they want to maintain the relationship."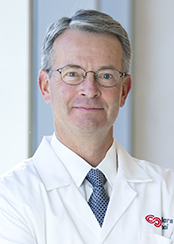 Orthopaedics
Accepting New Patients
---
"We put the patient first, which means we don't hesitate to ask each other for help. We want our patients to benefit from a diversity of opinion and expertise."
---
Pioneers in pediatrics
The scope of expertise available to pediatric patients at Cedars-Sinai is unmatched. Patients benefit not only from those trained specifically in pediatric specialties, as they would in a typical children's hospital, but from others who specialize in specific procedures or injury treatment as well.
"Within our team we have surgeons who have completed orthopaedic spine fellowships, neurosurgical spine fellowships, pediatric fellowships and minimally invasive surgical fellowships," says Dr. Skaggs. "They all bring valuable perspective to each patient's care plan, and surgery is performed by the best, most appropriately trained team based on the patient's unique situation. This often means those trained in pediatric and adult surgery working side by side in the operating room."
Behind the scenes, the team meets multiple times each week to review imaging studies, present cases and share ideas about the best path forward for each patient.
"We put the patient first, which means we don't hesitate to ask each other for help," says Dr. Skaggs. "We want our patients to benefit from a diversity of opinion and expertise."
Dr. Skaggs saw this collaboration in action when a teenaged skier came to him with a broken spine.
---
---
"After consulting my colleagues about this particular patient, it became clear that she would benefit most from a minimally invasive surgery performed by Drs. Neel Anand and Corey Walker," says Dr. Skaggs. "This option presented a reduced risk of complication and allowed her to make a faster recovery. While I am still involved in her care, she benefitted from the work of world-renowned minimally invasive subspecialists who could offer a better solution with a surgical technique not generally performed in pediatric facilities."
This commitment to quality and recovery has also made Cedars-Sinai a top choice for young, elite athletes. For example, the program has become a destination for high-level gymnasts from around the country.
"We often see gymnasts from out of state who need a spine evaluation," says Dr. Skaggs. "They come to us for the unique experience of seeing both pediatric and adult orthopaedic and neurosurgeons in the same day."
The team's philosophy is to do everything possible to get these athletes back to peak performance as quickly and safely as possible.
"When you see a young athlete with a stress fracture in their spine, it would be easy to encourage them to quit their sport," says Dr. Skaggs. "But there are so many benefits to sports—physical, mental and social. We really want to help kids be kids and athletes be athletes. I can fix a broken bone, but not a broken spirit."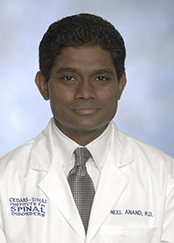 Orthopaedics
Accepting New Patients
A lifetime of care
Caring for a patient from adolescence through adulthood is a privilege, and a responsibility taken seriously by the entire care team.
"One of the most common conditions we see children for is scoliosis, which can require surgery in the early teen years," says Dr. Skaggs. "When they turn 18 just a few years later, they don't need to find a new care provider. We can facilitate warm handoffs to colleagues who specialize in adult care while remaining engaged with the patient. I can go into the operating room alongside my colleagues and help maintain a strong continuity of care."
Of course, adult patients experience some spine issues that children do not, such as back pain. Many surgeons still rely on fusion to relieve the pain, but Cedars-Sinai is leading the way in motion-preserving surgery with artificial disc replacement. The team pioneered some of the original studies on this newer technology and has been performing this type of surgery regularly for more than 15 years.
---
---
"In the old days, if someone had hip pain, we would fuse the hip so it couldn't move anymore," says Dr. Skaggs. "Today, we would do a hip replacement. The spine is really the last part of the human body being fused, and we believe artificial disc replacement is a better option for many patients. We even have some surgeons who have surgically reversed a previous fusion by putting in a disc replacement and restoring movement for patients. Artificial disc replacements can have a huge impact on quality of life for patients dealing with nerve pain or arthritis."
Access to the latest technology helps make this type of innovation possible. Cedars-Sinai surgeons have access to multiple intraoperative CT scanners, intraoperative navigation systems and robotic technology.
"We have a culture of innovation here and consider access to technology part of our commitment to quality and safety," says Dr. Skaggs. "Every patient should have access to the most skilled and experienced surgeons with the best technology at their disposal."
---
Make an Appointment
---
Find a Doctor
Call Us 7 Days a Week, 6 am - 9 pm PT