What to Do If You Experience Sudden Hearing Loss
Apr 19, 2023 Cedars-Sinai Staff
A person can lose part or all of their hearing in a matter of hours or over the course of a few days. In the vast majority of people with sudden hearing loss, the cause is unknown or cannot be identified.  
An estimated one in 5,000 people experience sudden hearing loss each year. While it can affect people of all ages, it most often affects adults in their late 40s and early 50s. 
What is sudden hearing loss?
"Sudden hearing loss usually occurs in one ear, but it sometimes occurs in both ears. It can be a loss of hearing volume or a loss of hearing clarity," says Dr. Yu-Tung Wong, an ear, nose and throat (ENT) specialist at Cedars-Sinai.
---
"Our treatment is aimed at preserving the hearing and facial nerve function."
---
It's important that people who are experiencing sudden hearing loss seek treatment. Getting treated early for sudden hearing loss increases a person's chance of recovering their hearing at least partially or fully.
---
---
How sudden hearing loss can indicate acoustic neuromas
Sudden hearing loss is usually linked to cochlear inflammation but may, in rare cases, indicate the presence of an acoustic neuroma, also known as a vestibular schwannoma. Acoustic neuromas are a type of benign tumor that develops in the vestibular nerves. These benign tumors are often detected in MRI scans after a patient experiences a change or asymmetry in their hearing. 
Once an acoustic neuroma has been identified, doctors sometimes observe the tumor and monitor its growth using serial MRI scans. Most acoustic neuromas grow 1-2 millimeters per year, in which case treatment is recommended.
"As the tumor grows, it puts pressure on the inner ear nerves and releases protein deposits in the inner ear, which can cause hearing loss and dizziness," says Dr. Mia Miller, an otologist/neurotologist and co-director of the Acoustic Neuroma and Lateral Skull Base Tumor Program at Cedars-Sinai. "Our treatment is aimed at preserving the hearing and facial nerve function."
Patients with an identified acoustic neuroma must also be closely monitored for any loss of hearing over time. Most patients experience a progressive, gradual hearing loss.
Otolaryngology
,
Neurotology
Otolaryngology
,
Neurotology
Accepting New Patients
---
---
Treatment options for acoustic neuromas
There are three options for treating acoustic neuromas:
1. Observe the tumor for growth
Not all acoustic neuromas grow. If the tumor does not grow while the patient is being observed, then the acoustic neuroma doesn't necessarily need to be treated aggressively. However, if the tumor does grow, it will cause problems for the patient over time. There is a risk to hearing even if the tumor does not increase in size.
2. Use stereotactic radiation
Stereotactic radiation ceases tumor growth in most cases. It is commonly used for smaller tumors or when patients have other medical problems that make surgery riskier. Although it is effective in stopping the growth of tumors, stereotactic radiation is associated with a high risk of hearing loss over time. 
3. Remove the tumor via microsurgery
Surgically removing the tumor could be a patient's best chance of preserving hearing, but multiple factors—such as the size and location of the tumor—impact the likely outcome and course of treatment for each person. A history of sudden hearing loss or declining hearing may also affect hearing preservation at surgery. 
"These surgeries are very particular because the tumors grow from the covering of the hearing and balance nerves," Dr. Miller says. "As we remove the tumors, we aim to preserve hearing and avoid the risks of working close to these critical nerves."
---
---
Innovating treatments and research
Treating acoustic neuromas can have a significant impact on a patient's quality of life. One recent patient treated by the Cedars-Sinai team experienced severe dizziness and instability due to an acoustic neuroma, preventing him from doing the things he enjoyed. 
"After we removed the tumor, he was so thrilled. He was able to go back to heavy weightlifting two weeks later," says Dr. John Yu, a neurosurgeon and co-director of the Acoustic Neuroma and Lateral Skull Base Tumor Program. "That isn't necessarily the norm, but it is possible for patients to see such a dramatic change in their symptoms that it turns their whole lives around."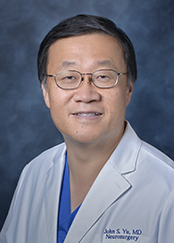 Neurosurgery
Accepting New Patients
The program at Cedars-Sinai is also focused on new therapies and research.

"We're pushing new therapies and making the surgeries safer," Dr. Yu says. "We'd love for our research to really impact care. We're working toward developing trials that will provide information for the novel therapies of the future."
Make an Appointment
---
Find a Doctor
Call Us 7 Days a Week, 6 am - 9 pm PT