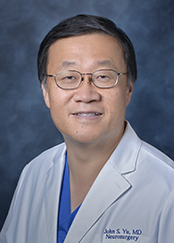 John S. Yu, MD
310-423-7900
Fax: 310-967-8592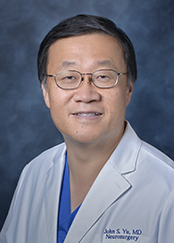 Neurosurgery - Pavilion
127 S San Vicente Blvd #A6600
Los Angeles, CA
34.074522
-118.379067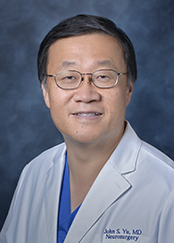 Back to Top
Locations
Neurosurgery - Pavilion
34.074522
-118.379067
Neurosurgery - Pavilion
Monday: 8:00AM - 4:30PM
Tuesday: 8:00AM - 4:30PM
Wednesday: 8:00AM - 4:30PM
Thursday: 8:00AM - 4:30PM
Friday: 8:00AM - 4:30PM
---
Self-parking is available in Cedars-Sinai parking lot P4. The cost is: 1st hour free, $5 each hour thereafter and $15 daily maximum. Valet parking is the same price as self-parking. Gratuities are not accepted. Valet is available at lot P4 Pavilion M-F, 5 a.m.-10 p.m.
Experience
Specialties
Area in which a healthcare provider is highly trained and often board certified.
1
Programs
Cedars-Sinai clinical programs this provider is part of:
4
Acoustic Neuroma and Lateral Skull Base Tumors
Research Areas
Titles
Director

,

Surgical Neuro-Oncology

Vice Chair

,

Neurosurgical Oncology in the Department of Neurosurgery

Professor

,

Neurosurgery
Education & Training
Massachusetts General Hospital

Residency - Completed 1997

Harvard-MIT Division of Health Sciences and Technology

Degrees - Completed 1990

Harvard Medical School

Medical School - Completed 1990

National Institute of Mental Health

Fellowship - Completed 1989

Stanford University

Degrees - Completed 1985
Achievements
1

Board Certifications

7

Awards and Honors

4

Publications
Board Certifications
Neurosurgery

American Board of Neurological Surgery
Awards and Honors
Mahaley Clinical Research Award, American Association of Neurological Surgeons and Congress of Neurological Surgeons
America's Top Cancer Specialists, Newsweek
Academy Award, American Academy of Neurological Surgery
America'a Top Doctors, Castle and Connolly
Preuss Award, Joint Section on Tumors, American Association of Neurological Surgeons and Congress of Neurological Surgeons
Southern California Super Doctors, Los Angeles Magazine
Culpeper Scholar, Molecular Neurogenenics, Massachusetts General Hospital
Publications
Xu Q, Liu G, Yuan X, Xu M, Wang H, Ji J, Konda B, Black KL, Yu JS. Antigen-specific T cell response from dendritic cell vaccination using cancer stem-like cell-associated antigens. Stem Cells. 2009;27(8):1734-1740.
Ji J, Judkowski VA, Liu G, Wang H, Bunying A, Li Z, Xu M, Bender J, Pinilla C, Yu JS. Identification of novel HLA-A*0201-restricted, cytotoxic T lymphocyte epitopes on CD133 for cancer stem cell immunotherapy. Stem Cells Transl Med. 2014;3(3):356-364.
Lee BS, Amano T, Wang HQ, Pantoja JL, Yoon CW, Hanson CJ, Amatya R, Yen A, Black KL, Yu JS. Reactive oxygen species responsive nanoprodrug to treat intracranial glioblastoma. ACS Nano. 2013;7(4):3061-3077.
Phuphanich S, Wheeler CJ, Rudnick JD, Mazer M, Wang HQ, Nuno MA, Richardson JE, Fan X, Ji J, Chu RM, Bender JM, Hawkins ES, Patil CG, Black KL, Yu JS. Phase I trial of a multi-epitope-pulsed dendritic cell vaccine for patients with newly diagnosed glioblastoma. Cancer Immunol Immunother. 2013;62(1):125-135.
View Research Profile
View Publications on PubMed