Strokes That Are Treatable—and Beatable
May 16, 2023 Cedars-Sinai Staff
Most people are familiar with the result of blocked arteries in the heart. The buildup of plaque (fat, cholesterol and other substances) can result in a narrowing of artery walls, which limits blood flow and seriously jeopardizes cardiac health.
Less well known is that plaque can accumulate in other arteries throughout the body, including the brain. This accumulation—known as intracranial atherosclerotic disease (ICAD)—is the third leading cause of stroke in the U.S., accounting for roughly 8% to 10% of cases (70,000) annually.
Due to a lack of awareness about ICAD, potential treatments are often overlooked. The first line of defense is medication, but as a secondary option, opening the artery with a stent has also proven effective.
---
"Many doctors aren't familiar with the current literature, so patients frequently aren't aware of available treatment options for ICAD."
---
Michael Alexander, MD, vice chair of Neurosurgery and director of the Neurovascular Center and Endovascular Neurosurgery at Cedars-Sinai, is a pioneer in stenting for ICAD. He says publicizing treatment can have a direct impact on positive long-term health outcomes.

"Dedicated stents for the brain emerged onto the scene in about 2005, and clinical trials show very promising results in ICAD patients who failed medical therapy," notes Dr. Alexander, who also heads Cedars-Sinai's new ICAD Program. "But many doctors aren't familiar with the current literature, so patients frequently aren't aware of available treatment options."

---
---
Stenting statistics
Medication is the best initial approach for ICAD patients with less than 70% blockage. Those with a complete blockage or with arteries measuring less than 2 millimeters are eligible for bypass surgery. But for low blood flow, when medication does not work, stenting appears to be the best option.
In 2019, Dr. Alexander and co-investigators published findings from a clinical trial known as WEAVE. Mandated by the U.S. Food and Drug Administration (FDA) to assess the safety of a specific stent system named Wingspan, WEAVE enrolled 152 patients at 24 hospitals, where they underwent angioplasty and stenting with the Wingspan stent.
The trial demonstrated a lower-than-expected stroke, bleed and death rate, and it has become the benchmark for all future studies.
In a later trial called WOVEN, Dr. Alexander completed a long-term follow-up of the WEAVE cohort and confirmed a relatively low one-year stroke and death rate for stented patients.

---
---
In 2021, after publication of the trials, the American Stroke Association began recommending the procedure for ICAD patients who were not helped by medication. The trials also led more neurointerventionalists to consider stenting as a viable treatment alternative.
Recently, Dr. Alexander analyzed a national database that includes patients who received stents for ICAD and found that stenting procedures have increased five-fold since 2014. He presented his data this past February at the American Heart Association's International Stroke Conference in Dallas.
"This is obviously a therapy that is catching hold," he says. "Our trials gave neurointerventionalists the confidence to begin performing more of these procedures."
Over the past three years, Dr. Alexander has lectured on the subject in 23 countries across six continents. His expertise has earned the Neurovascular Center a reputation at the forefront of stenting and surgery for ICAD.

---
---
Extending the golden hour
Many ischemic stroke patients must receive a special clot-busting drug within 60 minutes (referred to as the "golden hour") to maximize their survival and minimize complications, but ICAD patients have a longer time frame for treatment. Surgeons typically perform stenting procedures for ICAD within one to three weeks after a mild stroke or transient ischemic attack, also known as a "mini stroke."
"We usually wait until a patient is more stable, which makes stenting a prime opportunity for referral to the best treatment center because there's time to act and travel is a possibility," Dr. Alexander says.
Prior to stenting, physicians must first identify appropriate candidates. Cedars-Sinai is a leader in using high-resolution magnetic resonance angiography—a type of MRI that looks specifically at the blood vessels—to determine the cause of a patient's arterial blockage.
"We're expert at finding people who fit the profile," Dr. Alexander says.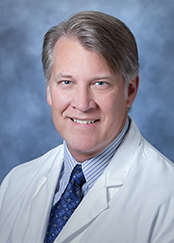 That profile is likely to include patients between 40 and 70 years old who are experiencing arm weakness or difficulties with speech. In addition to age, risk factors include high blood pressure, diabetes, high cholesterol, lack of physical activity and smoking. In the U.S., more ICAD patients are white, but the disease actually has a higher incidence among African Americans, Latinos and people of Asian descent.
"In some countries, such as China, ICAD is the leading cause of stroke, responsible for more than 45% of cases," Dr. Alexander says.
Closer to home, Dr. Alexander notes that his caseload of ICAD patients is rapidly growing. "Neurologists and cardiologists from across the country are sending us patients because of our excellent reputation and outcomes," he says. "We have a unique ability to help manage patients and prevent future strokes, and we're proud to be advocates for treating this disease."
Make an Appointment
---
Find a Doctor
Call Us 7 Days a Week, 6 am - 9 pm PT